Prowler's Claw
is a
mythic item
in

League of Legends
.
Recipe
Cost Analysis
Gold Value
Gold Efficiency*
85.57%

gold efficient.
base stats are
Sandshrike's Claw
is a
mythic item
in

League of Legends
. Can only be forged by .
Recipe
Cost Analysis
Gold Value
Gold Efficiency*
107.4%

gold efficient.
base stats are
Similar items
Notes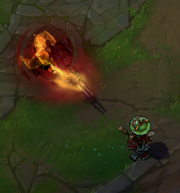 Prowler's Claw's mythic passive can grant up to

25 lethality

with 5 other Legendary items.

Sandswipe

deals spell damage, and thus will trigger spell effects.

Sandswipe

is blocked by spell shield, but the effects will still apply.

*

Sandswipe

is a unit-targeted effect.

Sandswipe

has a 0.2-second cast time.

Sandswipe's

cast does not break stealth.

Sandswipe's

dash can bypass terrain provided the target is on the other side.

Sandswipe

will deal damage and grant the damage increase regardless of how far away the target is when the dash is completed.

Sandswipe

will not deal damage nor grant the damage increase if the dash is interrupted or the target is untargetable.

Sandswipe

will amplify all damage types, including true damage.
Strategy
Prowler's Claw's active dash serves as a gap closer to keep enemies in grasp. It is highly effective in focusing enemies who never expect it. The damage increase also provides certain burst potential. Assassins can make great use of all of these elements.

The dash will track targets that change locations during the cast time. Use this fact to catch up to enemies who react to engages by dashing or blinking away.
Any ability can be used during the dash. This allows for the active to be included in ability combos.
The dash is best used as a last resort after having used all forms of mobility.

It is important to note that Prowler's Claw's active can be targeted on any enemy. This means it can be cast on a minion or monster to simply get closer to a target that is otherwise far away and not in range of the active.
Old icons
Trivia

Patch History
Ability haste increased to 20 from 10.
ability haste increased to 25 from 15.
attack damage reduced to 75 from 80.
Sandswipe base damage reduced to 65 from 100.
Sandswipe bonus AD ratio reduced to 25% bonus AD from

30%

.

Undocumented:

No longer counts as a unique spell cast for .
Updated icon.
Attack damage increased to 60 from 55.
attack damage increased to 80 from 75.
V10.23 - Added
Stats:

55 attack damage, 21 lethality, 10 ability haste.

Unique Active - Sandswipe:

Dash through target enemy, dealing 100 (+ 30% bonus AD) physical damage. For the next 3 seconds, you deal 15% increased damage to the target (60 second cooldown).

Mythic Passive:

Empowers your other Legendary items with

5 lethality

.
Limited to 1

Mythic

item.

Stats:

75 attack damage, 29 lethality, 15 ability haste.

item: .
References
Starter items
Pots and Consumables
Trinkets
Distributed items
Boots
Basic items
Epic items
Legendary items
Mythic items
Ornn's Mythic item upgrades
Champion exclusive items
Minion and Turret items
Removed items
Community content is available under
CC-BY-SA
unless otherwise noted.