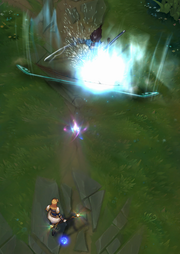 A projectile (or missile) is any entity not classified as a unit (champion, minion, monster, etc) that travels at any given velocity.
Almost all projectiles can be blocked or destroyed by and . Moving units that are not projectiles are not blocked under any circumstance (including dash abilities and units thrown by abilities, such as and ). Some champion summoned units will be

 knocked down by projectile-blocking effects.
Unit-targeted projectiles such as those of ranged basic attacks can furthermore be destroyed by

 projectile popping effects aswell.
Not Blocked
The following effects do not interact with  or despite being or appearing to behave similarly to projectiles.
Abilities
, , and
(without an element)
(only SFX is blocked)
and
Basic Attacks
The following

 ranged basic attacks will bypass / .
 Turret's and  Nexus Obelisk's attacks.
, , , , and basic attacks.
attacks while equipped with .
 melee range of their target.
and (after becoming ) basic attacks while they are within
, , , and enhanced attacks.
Items
Summoner Spells
Runes
Stopped projectiles
The following projectiles or projectile-like champion summoned units are stopped short of their trajectory:
All the other projectiles are / .