Raise a Floppa - The Loop
Play Sound
For the species, see

Poro

.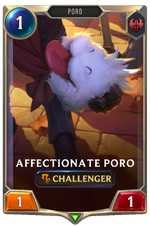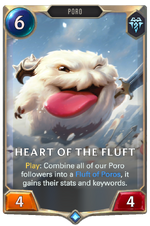 Poro is a group unique to a small set of cards which are present in all

regions - usually one per region, many in the

Freljord.
The Poro cards represent the in-universe much-loved fluffy species of animal found across

Runeterra, friends to Braum, Poros.
Thematically, they are associated with unexpected strength, strength in numbers, camaraderie, friendship, and love.
Strategy
Each region has a 1| 1| 1 poro with a single keyword representative of that region.

The game plan of poro decks is to accumulate value by collecting keywords and stats.

Generally, Poros synergize well with the Freljord, especially

4

Braum.

Secondary Regions can be Ionia for several buffs, or Piltover & Zaun for

0

 Poro Cannon,

2

 Patched Porobot and

1

 Daring Poro.

6

 Heart of the Fluft is a common (but not always essential) card in decks based around this unit group. This is due to the win-condition it provides these decks, turning the many small creatures into one formidable unit with many keywords.

Poros from across the regions can offer the

6

 fluft keywords that can especially heighten its strength, examples being Elusive (

1

 Daring Poro), Overwhelm (

3

 Mighty Poro), and Fearsome (

1

 Sinister Poro), all of which can either completely prevent units from blocking, or at least make the blockers considerably less effective.
Trivia
Freljord has a thematic association with the species, hence it being the region the archetype is based around, despite their actual origin being unclear (For more on the origin of poros, see Poro).
The keywords of Poros from outside of the Freljord tend to be ones that their regions heavily feature, or at least has some association with, for example

1

 Sinister Poro having Fearsome, one of the main keywords of the Shadow Isles.

These Poros also often represent in-universe thematics of the regions, similar to how Yordles do - for example,

1

 Plunder Poro from Bilgewater is associated with crime and piracy.

The Poro units in Legends of Runeterra were the first time that a large number of Poros were sighted outside of the Freljord, in media that's confirmed to be canon.
See Also
List of Poro cards
List of cards generating Poro cards