Fire Emblem Warriors: Three Hopes - The Loop
Play Sound
For other uses see Poro (disambiguation).
"
"Born out of love, blinded by glee,
Innocent, pure, magic and free,
Faithful, trusting; often naïve,
Soft, furry; their hearts hold a key."
— The Origins of Poros, Riot Development Article

Poros are the mysterious, magical, and much-loved creatures seemingly originating from the

Freljord.[1] They have since spread across all of

Runeterra, being present on every known continent, in every region and nation.
Lore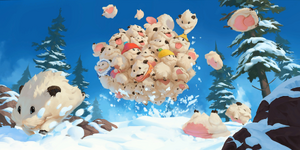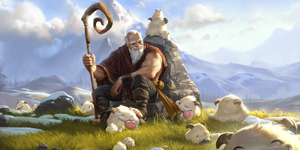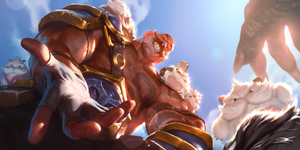 "
"When you wish upon a poro,
An' look at da night sky,
You'll see da snax among da stars,
All sparkly in our eyes."
— Ingvar the Younger,

6

 Aurora Porealis flavor text
Poros are equal parts truth, valor, and innocence. The first design had a color described as "very light blue, like Freljordian snow" (Pantone P 121-3 U), later revisions show off-white or white fur.[1] They have a heart-shaped underbelly because they're made of love. A poro's horns perk up when it's excited and droop down when it's scared. Poros paddle through deep snow with their front paws. Some believe that poros are indestructible. Poros stick their tongue out because they are incredibly warm. This is why they can survive the harsh cold environment of the Howling Abyss.[2]
"
「 "They gobble

3

 'em up, then look at you, tongues out, happy as sheared 'nuks in the thaw askin' for more! You try sayin' no." - Avarosan Treatmaker 」「 This savory

All proceeds will be donated towards fighting Noxian animal cruelty. of free-range, grass-fed Avarosan game hens and organic, non-ZMO Freljordian herbs contains the essential nutrients necessary to keep your Poro purring with pleasure. 」
Due to recent heroic deeds,
is a friend to the poros.
For many weary inhabitants of the Freljord, their biggest desire is to retire to greener pastures and become a

2

 Poro herder.[3]
Notable Poros
The Poro King is the leader of the Poros, who exists in the

 Winter Wonder universe as a major character, while being a minor character in the

 Runeterra Prime universe. Little is known about Poro politics.[citation needed]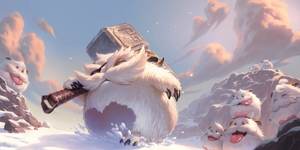 "
    "Haha, a good moustache on this one!"
—

4

Braum
'Ol Longhorn, or the Mighty Poro, is a large, bemustached Poro who lost his eye defending the Poro King. Braum is seen with him and has the ability to

Summon him in

Legends of Runeterra, suggesting some relation between these two. Him, and the
6 Heart of the Fluft and followers, are some of the only poros seen using tools.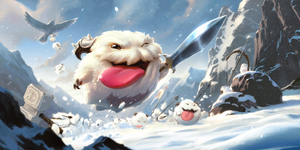 "
    "Gather friends, we go together!"
—

4

Braum
There are stories of a Poro that appeared to help Avarosa when her village was overwhelmed by raiders. When they first appeared, Avarosa had no idea what they were capable of. Gradually, Poros appeared, one by one, until the hall was full of them.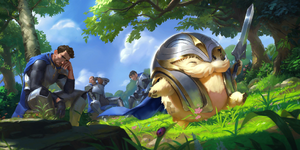 "
"New recruit has the kind of endurance and courage shown by our finest soldiers. Will he make it to the Vanguard someday? He's... smaller than the rest, but we'll see."
—

3

 Vanguard Sergeant, Plucky Poro flavor text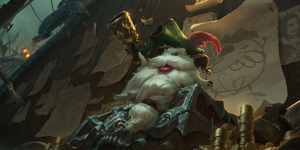 "
"His picture's been on the Bounty Board longer'n most, for he's a greedy, ruthless devil that won't let anyone or anything stand in his way. Worst of all? He's… He's cute, damn it."
—

5

Gangplank, Plunder Poro flavor text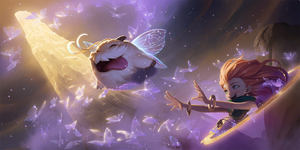 "
In space, no one can hear you squee.
— Porofly flavor text
Little is known about this being. It appears to be a Poro, but with insect-like characteristics such as wings and antennae. This is quite likely a result of

Zoe's meddlings with magic.
Debatable Canon
Many unique Poros have been shown in various Riot Games media, especially cosmetics or jokes, dances, etc in

League of Legends, with unique shapes, colours, etcetera, and these are all things that are not considered automatically canon.
Some of these are themed after Runeterran regions, others after other alternate universes. Some have been somewhat 'replaced', for example there has been a
Shadow Isles-themed wraith-like Poro shown in

Mordekaiser's joke (See Model Viewer), along with in a
Ward Skin and
Summoner icon. In

Legends of Runeterra, in which all card art is stated to be largely canonical[5], a particularly
1 sinister Poro has been seen surviving the Shadow Isles without becoming a specter.
Examples of Poros fashioned outside of the

 Prime Universe are:
Gameplay
Poros were first introduced in

League of Legends with the 2012 release of the official

Howling Abyss ARAM map.[2] Ever since then, they have become 'mascots' of sorts, making regular and varied appearances particularly during the Snowdown Showdown seasonal event.

Legends of Runeterra introduced many more unique Poros, with them being a group in the game.
Trivia
Media
Stickers
Poro Sticker emotes were released officially by Riot games for use in social media sites as well as templates for physical stickers.
References