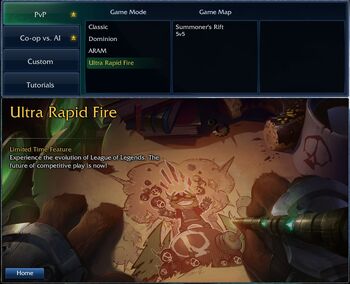 The Play Wall is a screen that showcases several game modes. It is accessible by the "Play" button listed at the top of the Main Hub for the PVP.net client.
Game modes
League of Legends has several available game modes, with varying game durations and level of competition. Each has its own distinct characteristics, maps, and strategy.
The Play Wall game modes are:
PVP: Match with and battle against other Summoners.

Classic: Work with your allies to siege the enemy base and destroy their Nexus.
ARAM: Fight as a team of random champions to destroy the enemy nexus.
Featured Game Mode (Depending on the event).

Co-op vs. AI: Battle against computer-controlled champions.
Custom: Join or Create a non-matchmade game.
Tutorials: Learn the basics of playing League of Legends.

Basic Tutorial: Learn the basics in this instructive Tutorial map.
Battle Training: Learn more advanced techniques in an instructional Summoner's Rift Game.
Game Modes
Matchmade PVP
Custom
Co-op vs. AI
Training
Rotating Game Modes
Draft types

All Random (ARAM / Custom)
Blind Pick (Normal / Custom)
Draft Pick (Normal / Ranked / Custom)

Tournament Draft

(Custom / Tournaments / Competitive)
Blind With Bans ()

Majority Vote

()

Roulette Vote

()

Banless Draft

(PBE)

Retired / Cancelled
Community content is available under
CC-BY-SA
unless otherwise noted.