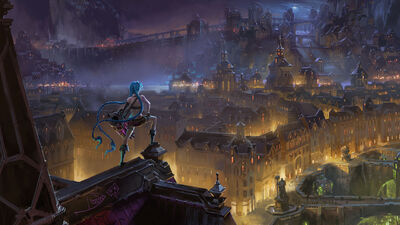 Piltover & Zaun is a Legends of Runeterra unified regional card set based on the lore regions of

Piltover and

Zaun.
Piltover & Zaun is a primarily spell-based region that focuses on constantly drawing and comboing spell effects. They are the most versatile deck with regards to both offensive and defensive options.
Main Mechanics:

Burst-speed

Summoning,

Draw (++Synergy),

Discard,

Imbue, Manipulating Keywords,

Nexus Strike, Specific

cost synergy, Targeting,

Trap, Copy, Exact Copy,


Nexus Damage,

Spellcasting, Direct damage, Creating cards
Lesser Mechanics:

6+ Cost

Spells,

Elusive,

Random,

Mana,
Spell Mana,

Support
Description

Machinations and Mayhem

Piltover and

Zaun may seem worlds apart, but an unusual harmony connects them beyond mere proximity. On the surface, Piltover is a prosperous city of industry. Standing as Valoran's cultural center, innovation and ingenuity are prized. However, amidst the cliffs beneath Piltover lies Zaun. Swathed in a smog-induced twilight, Zaun thrives in the shadow of its sister city. When the brilliant scientists above find society too constraining, they journey below, into the toxic air to conduct their experiments. Will you choose to stay on the surface or chance what lurks beneath?
Trivia
The icon used in-game is an incredibly simplified version of the Piltover and Zaun crests, bearing very little resemblance to the crests themselves. This crest could be intended instead to convey the nature of the two cities, with the towering buildings of Piltover, and the depths of Zaun below.
There are files in early patches for a separate Zaun region, hinting that initially it wasn't intended to be combined with its overcity.
List of Cards
Media
References
Community content is available under
CC-BY-SA
unless otherwise noted.