For the Legends of Runeterra regional card set, see Piltover & Zaun.
"
    "For Piltover!"
—
Piltover, also known as the City of Progress, is a thriving, progressive city whose power and influence is on the rise. It is Valoran's cultural center, where art, craftsmanship, trade and innovation walk hand in hand. Its power comes not through military might, but the engines of commerce and forward thinking. Situated on the cliffs above the district of

Zaun and overlooking the ocean, fleets of ships pass through its titanic sea-gates, bringing goods from all over the world. The wealth this generates has given rise to an unprecedented boom in the city's growth. Piltover has - and still is - reinventing itself as a city where fortunes can be made and dreams can be lived. Burgeoning merchant clans fund development in the most incredible endeavors: grand artistic follies, esoteric hextech research, and architectural monuments to their power. With ever more inventors delving into the emergent lore of hextech, Piltover has become a lodestone for the most skilled craftsmen the world over.
Lore
Piltover is a thriving, progressive city overlooking the ocean. Fleets of ships pass through its titanic sea-gates, bringing goods from all over the world. Merchant clans fund incredible endeavors, including artistic follies and architectural monuments to their individual power. With ever more inventors delving into hextech, Piltover has become the destination for the most skilled craftspeople from across Runeterra.[1]
Champions of Piltover
Other Related Champions
Zaun.
tried to track down in Piltover and
keeps the city streets of Zaun and Piltover safe.
is a Spirit that protects Zaun and Piltover.
has an assassination mission in Piltover-Zaun and clashes with .
is a Piltover criminal and an adversary to .
Zaun.
tried to track down in Piltover and
was born in Piltover.
is searching for his people's crystals.
visited Piltover in the past.
became more active in Piltover and Zaun after the Sun Gates were built.
managed a successful heist of The Clockwork Vaults.
came to Piltover & Zaun to secure a fetter for .
is a former friend and now adversary to .
Zaun.
tried to track down in Piltover and
Paint the Town comic, both being in love with explosives and made a quick friendship untill Ziggs stopped Jinx from killing people.
was hiding with and met in the
History
Birth of Progress Day
Zaun finalized its plans to destroy a portion of the isthmus connecting Valoran and the Southern Continent, allowing for safe sea passage between eastern and western Valoran. The plan involved using thousand of chemtech bombs to crack open an area of the land so that a cavern could be created, but the results were catastrophic, as in what seemed to be an accident, the bombs triggered a series of earthquakes that completely destroyed the isthmus and sank large districts of Zaun and thousands of its citizens, while also leaking poisonous gas into the city's surviving areas.

Janna, empowered by the prayers of Zaun's people, arrived and blew away the gas, saving many lives and being eternally remembered by Zaun's denizens, converting her from a goddess of faith for sailors to a guardian deity for Zaun. She has yet to leave Zaun following this event.
Eventually Zaun was rebuilt. In order to regulate the River passage they were built over, the Sun Gates were constructed, forcing all transport through the waters to be regulated by Zaun. This brought immense wealth to the city and likely led to Piltover's construction and elevation from Zaun, as the ruling families were in control of the taxes and trade produced by the Sun Gates, leading to the formation of the actual merchantile clans.
Construction of the Sun Gates led to great changes in eastern Valoran and the eastern seas, as Noxus was from this point on able to more easily pool together resources from across its empire without needing land travel, and Bilgewater's pirates found the seas brimming with trade ships waiting to be plundered, feeding in to the criminal underbelly of the city.
Discovery of the First Hex Crystals
The Ferros family gained most of its wealth through a rare crystal harvested from a creature native to the sands of a distant valley. These first hex-crystals, or "first crystals," contained power normally reserved to those born with innate magical ability.

Camille's Great-Great Aunt Elicia lost an arm, and nearly her life, during one such early expedition. Her sacrifice was celebrated, and it set an expectation that is still reflected in the Ferros family motto today, "For family, will I give."
The creatures Elicia Ferros found, the Brackern, were not an unending resource, and Camille's family had to look for ways to augment the crystals they had accumulated. Utilizing certain shadow investments in chemtech and runic alchemy, the Ferros family brought to market the less powerful, but easier to procure, synthetic hex-crystals. Such power often comes with consequences, and the production of synthetic crystals is rumored to be a heavy contributor to the Zaun Gray.
Hex Crystal Destruction
Clan Giopara's explorers discovered a raw, blue crystal deep within the Shuriman desert.

Jayce, one of their youngest apprenta, volunteered to experiment on it, though his lack of tact in doing so prompted Clan Giopara to give it to their better-mannered scholars as a form of punishment. Yet, after many months, the scholars reached a unanimous conclusion that the crystal was worthless. The disappointed clan leaders finally handed the crystal over to Jayce, assuming that even he wouldn't be able to learn anything from it.
Jayce spent many months running every variety of test on the crystal. Deciding to not give up in his efforts, he approached the problem from newer different angles, which later proved promising.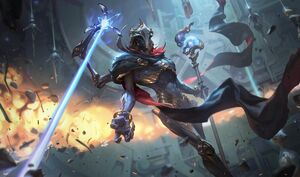 Shortly before that, a toxic event in the Sump levels of Zaun transformed thousands from the Factorywood into rabid psychotics. Before that situation

Viktor, a brilliant Zaunite inventor skilled in cybernetics and robotics, used a powerful soporific to sedate the victims and bring them back to his labs to try and undo the damage. The toxins had begun to eat away portions of their brains, but Viktor was able to slow the degenerative process by opening up their craniums and employing machinery to slowly filter their bloodstreams of poison. The technology available to him wasn't up to the task, and Viktor knew many people were going to die unless he found a way to greatly enhance his purgative machinery.
As he fought to save these people, he detected the surge of Hextech energy coming from the lab of his former associate, Jayce.
On the following day, Viktor appeared and told Jayce that he only needed one thing for his Glorious Evolution – a power source like Jayce's crystal. Jayce disagreed, informing Viktor that what he truly needed was a moral compass. Viktor, who had long grown tired of Jayce's rudeness, leapt upon him, grabbed the crystal and knocked Jayce unconscious with it. When Jayce awoke hours later, he noticed that though the Shuriman crystal was gone Viktor hadn't seemed to notice or care about the smaller shard.
He returned to Zaun and hooked the strange crystal to his machinery, readying a steam golem host for each afflicted person in case their body gave out under the stress of the procedure. Empowered by the new crystal, Viktor's machines went to work and, gradually, the damage from the toxins began to reverse.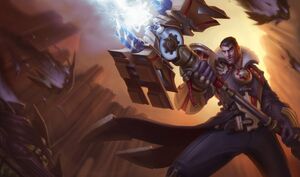 After

Viktor stole a Brackern crystal from

Jayce, Jayce raided Viktor's lab with his newly made
Mercury Cannon powered by a shard of the same hex crystal. He made his way into the heart of the lab. Due to a misunderstanding, they both ended up fighting fiercely, suffering severe injuries. In the end, Jayce managed a desperate strike at the crystal. He shattered it and escaped as Viktor's machines and laboratory were destroyed in the aftershock of the explosion.
Get Jinxed!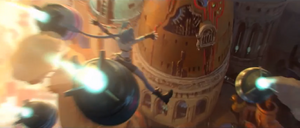 Piltover has been known as the City of Progress for the countless technological advancements it has made, but

Jinx found a way to halt progress entirely for some time: anarchy! Chaos, buildings crumbling, people dying, painted animals running rampant, and the city in constant gunfire... it was Jinx's dream. Piltover's Finest,

Caitlyn and

Vi, attempted to track her down to no avail.
As Jinx's rampage escalated, Caitlyn declared a city-wide manhunt for her. Jinx responded to this by marking the treasury with a challenge to Vi, saying that she would attack the place at the time and date she had written there. When the time came, she showed up and began to wreak havoc as usual. Vi began chasing her, smashing through every wall along the way. Eventually Jinx was cornered, but she let loose a barrage of rockets, destroying the building. When the officers had awoke, all the gold was intact still remained and Jinx had spelled out something in the sky using the city's lights: "YOU'LL NEVER CATCH ME!".
Progress Day
For the celebration, see the Fesivals section of Celebrations. For the Legends of Runeterra card, see

8

 Progress Day!.
Three Noxian spies, Gysbert, Tamara, and Colette, infiltrated Piltover for many months in hopes of placing an agent inside Clan Medarda. They used the annual Progress Day to showcase their technical skills to the clan's masters and apprenta.
Tamara Lautari showcased her Hex-Armillary Amplifier invention. It worked by harnessing the properties of a crystal and exponentially increasing its output. However, the invention itself proved to be dangerous as it almost destroyed the entire hall due to its faulty construction - which was intended to sabotage the proceedings.
Later on, after leaving the Medarda mansion, Tamara was apprehended by

Caitlyn, who had discovered her true identity and purpose in the city. She was subsequently banished and sent back to Noxus.
Both Tamara and Gysbert failed to become Medarda apprenta, but Colette succeeded. Some time after, Colette would obtain a Medarda trading map, which she would relay to Noxian intelligence.
Locations
Piltover is a city-state located on an isthmus between Valoran and Shurima. The current well known locations (not counting Zaun) in Piltover are:
Connected Cities
Dual city-states that control the major trade routes between Valoran and Shurima. Home both to visionary inventors and their wealthy patrons, the divide between social classes is becoming more dangerous.
North Piltover
Bluewind Court: The most influential individuals of Piltover live in Bluewind Court, located in northern Piltover. The north of the city is where the bulk of the clans have their mansions and heavily guarded workshop compounds, such as the mansions of clans Arvino, Cadwalder, Ferros, Giopara, Holloran, Kozari, Medarda, Morichi and Torek.

Jayce's Laboratory: As part of the Giopara Mansion, the lab the work area of the city's famous guardian, . It is the place where he himself made his famous Mercury Hammer, which was later used against .
Workshop of The Horological Institute: Workshops of hextech researchers are magnificent examples of what a wealthy patron can do for an inventor.

Count Mei's Menagerie: A type of Zoo, funded by Count Mei, that housed a large assortment of flora and fauna from across Runeterra. It was recently vandalized by .
Drawsmith Arcade: A vaulted structure of colored glass and ironwork columns containing several theatres.
Heimerdinger's Pyrotechnic Provisions: The workshop of the yordle inventor; many inventions have been imagined, created, tested, and sold in this establishment.
Mainspring Crescent: The fashionable promenade of cafes, bistros, and supper clubs. The Drawsmith Arcade contains small theatres.
Reveck House: Residence of Corin Reveck, the city's famous clockwork inventor. He lived there by selling a collection of clockwork figurines left behind by his daughter, , before she gave into the sickness for the benefit of others and was replaced with hextech.
The Explorers Guild House: The House of the Official Piltover Guild for explorers, they are tasked at funding, monitoring, and acquiring archaeological artifacts from its guild members from across Runeterra. These artifacts are later used for research or placed in one of many Piltover museums.
South Piltover
Ezreal's House: One of the cities most famous residence, the house houses a large assortment of artifacts found by the explorer himself.
Sidereal Avenue: The streets of Piltover are rumored to be paved with gold, but to the disappointment of many a hopeful traveler, that is simply a metaphor. However, the city's most wondrous structures and streetscapes are funded by the merchant clans, who flaunt their wealth as much as possible. Such place is the Sidereal Avenue, home to the Piltover Treasury.

The Ecliptic Vaults: Located in Sidereal Avenue, were once considered to be Piltover's most secure bank, before breached their heavily reinforced walls.
Clockwork Vault: Located at the Southern part of the city. This bank was considered secure as well, only to also be broken into, this time by and .
Zindelo's Incognium Runeterra: Zidelo's Incognium Runeterra is located in the Incognia Plaza, connected to the Sidereal Avenue in southern Piltover. The lifetime's work of Valentina Zindelo, the Incognium Runeterra is a device she claimed was able to locate any individual in the world. Since Zindelo's mysterious death, many believe her alchemical formulae to have been stolen. The contraption is left inoperable.

Sapphilite Row: A street where Zalie's is located in. Named after the substance harvested from Jaull-fish.

Zalie's Expeditionary Outfitters & Haberdashery: Subscribed by as one one of the best outfitters in Piltover, the shop is outfitted with a wide range of clothing for every need.
Hexdraulic Conveyors
Hexdraulic Conveyors are scattered across Zaun, connecting it with Piltover and its numerous city levels. Some conveyors are for public use (those that can afford it), while some for private, used mostly by Chem-Barons and wealthy Piltovans.
Rising Howl: A large multi-tiered rack-and-pinion Hexdraulic Coveyor supported by three vertical structural beams which span the height of the city, from the Sump to the Boundary Markets. Its ovoid shape and curved top side are constructed of thick glass and an elaborate ironwork baroque latticework frame with ratcheting endless gears. At the top sits a howling wrought-iron wolf, the elevator's namesake, and a set of steam whistles. It's the primary Hexdraulic Coveyor for transporting crowds between the levels of Zaun and Piltover. Conductors' voices are magnified by a flexible speaking tube connected to a bell-shaped sonophone.
The Cliff
The most important location of all of Zaun and Piltover, it was the epicenter of a massive man made geological disaster that sunk most of old Zaun. Currently, it is the location of massive spires jutting upwards towards Piltover as an arrogant testimony to Zaun's resolve to survive. One such building is the College of Techmaturgy. The Sun Gates are built above The Cliff.
Boundary Markets: The levels where division between Zaun and Piltover blurs are home to thriving markets and Commercia Halls. Boundary Markets areas are the most cosmopolitan of the city, where people from all walks of life and levels of society can be found for the purchase and sale of goods.

First Assemblage of the Glorious Evolved: Located at the end of the Boundary Markets in southern Piltover, the Church is the main location where worshipers of the Glorious Evolved from both Piltover and Zaun come to worship their deity, the Gray Lady. Its is also a place where the disenfranchised come to seek refuge, and where the crippled come for techmaturgical miracles.

The Sun Gates: The most important location in all of Piltover, the construction of these huge accessways made Piltover a hub of mercantile trade between Valoran and Shurima. They were named 'The Sun Gates' to honor the region's Shuriman heritage. They were constructed as a necessity of the city, but unfortunately, an accident during their construction sank large chunks of Zaun into the sea. In Piltover, Progress Day marks the anniversary of the day the Sun Gates opened for the first time, allowing trade to pass easily through the city, bringing unimaginable wealth to the city's rulers. In Zaun, it is a day to remember those lost in the geological upheaval that created the east–west passage and submerged entire districts underwater. It enabled the rapid expansion of the Noxian empire along the coast, although Piltover charges truly staggering hazard rates for the transport of all military assets.

Wharfside Docks: Located at the lower end of the Sun Gates, the quaysides of Piltover are always busy, with ships from every major port passing through the Sun Gates every day.
Wildlife
Culture
Government
Relations
To the wealthy clans of Piltover, sea-borne trade is key to their continued wealth. Detailed knowledge of the ocean's many trade routes and city ports (as well as the people who control them) is jealously guarded and passed down only to worthy heirs. Over the years, Jago Medarda has sailed far and wide to secure Clan Medarda's fortune, and his well-traveled - and oft-amended - map offers many clues to those seeking their fortune upon the high seas.
Piltover trading families have close trading ties with the city-state nation of Aurma, such as Clan Medarda with Mistress Arathmae. One of the nations more well known exports to Piltover are Roes and leathers.
As Runeterra's biggest black market, Bilgewater trades all manner of illicit hextech pilfered from Piltover. The Sun Gates allowed Bilgewater to prosper as a haven for pirates and reavers who prey on ships traveling to and from Piltover.
Piltover and Demacia may have their differences, but the two nations are on relatively friendly terms. Scientists from the City of Progress are usually welcomed inside Demacia. However, should the scientists wish to perform experiments there, they must first get clearance from Demacian officials.
Piltover trading families have close trading ties with the city-state nation of Holdrum, such as Clan Medarda with Lord Brannin of Sea. One of the nations more well known exports to Piltover are pearls and fish sauce.
In recent times, Ixtali have had an unwelcoming contact with the nation of Piltover. The Piltover Explorers Guild has delved into the Jungle in search of arcane treasures, only to vanish without a trace (due to the wildlife, or the Ixtali defending their borders). However, due to the actions of

Qiyana, Piltover has found out about the existence of this hidden nation.
Piltover trading families have close trading ties with the city-state nation of Kumangra, such as Clan Medarda with individual known as Panaris. One of the nations more well known exports to Piltover are Song birds from the famous Kumangra Song-Market District, though trading families have a hard time at holding contracts in this nation due to the fickle nature of Kumangrans.
Piltover trading families have close trading ties with the city-state nation of Mudtown, such as Clan Medarda with individual known as Sallie One-Eye. One of the nations more well known exports to Piltover are materials for red-shale bricks as well as Nirpooti fruit.
As the most expansive nation on Runeterra, Noxus heavily relies on the crucial port of Piltover to connect its land in Valoran and its territory in northern Shurima. Due to the neutral city's strategic location, many Noxian shadow agents have infiltrated all levels of Piltover's society in order to prepare the empire for a possible future invasion.
Piltover trading families have close trading ties with the city-state nation of Palclyff, such as Clan Medarda with Foreman Piarre Yaeshiff. One of the nations more well known exports to Piltover are weapons, armor, and

Honeyfruit.
Piltover trading families have close trading ties with the cities of Shurima, such as Kalamanda, Urzeris, Nashramae, Tereshni, and Bel'Zhun. The City itself was built on top of an old Shuriman outpost known as Oshra Va'Zaun. Individuals, organizations, and trading families have frequently exploited the nations natural resources such as Hextech Crystals and Ancient Shuriman Tombs. The Piltover Explorers Guild is infamous for hiring explorers in search of old Shuriman artifacts and relics.
Piltover trading families have close trading ties with the city-state nation of Stonewall, such as Clan Medarda with Councilman Aj Ni Noorin. One of the nations more well known exports to Piltover are Dunpor milk and curds.
As the two leading city-states in the development of hextech, Zaun and Piltover have a deep competitive rivalry, both vying to be the ones directing the future of techmaturgy on Runeterra. Smuggling campaigns are frequently orchestrated by Zaunite thieves; the valuable technologies obtained are then later sold on the black market all across Runeterra. The two cities also share deep historical, social, and cultural connections, as Piltover (literally and figuratively) rose from the foundations of Zaun.
Trivia
Media
See also
References