Fire Emblem Warriors: Three Hopes - The Loop
Play Sound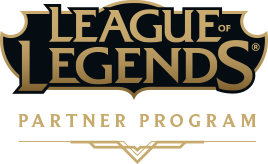 The League Partnership Program is a Riot Games based project where popular community members obtain special rewards for promoting League of Legends such as giveaways, first looks, special promotions, Riot dev access, and more.[1]
Partner Perks
Sign-up Rewards
As soon as approved, a partner will receive a reward chroma for one of the newer skins such as

Divine Sword Irelia. If the partner doesn't own the skin, they will also obtain it for free.
Audience Giveaways
Every few patches brings a new, exclusive chroma to give away to partners viewers. The more the partners audience grows, the more codes they'll get to give.
Official Promotion
Partners will have a chance to be featured on Riot's social media and other official channels.
Dev Access
Partners get exclusive treatment when it comes to livestreams. Their will get answers to the questions they care about, direct from the source sooner.
Co-Reveals
Partners will have a chance to get early access to reveal upcoming content like new champs, events, and gameplay changes.
Event Invites
Some partners will be chosen to attend Riot-sponsored League events all over the world, including a global summit for top creators.
Requirements
We're looking for Video Content Creators of all types, but here's what you gotta have no matter what:
A League account in good standing and with a verified email address.
At least 30% of your content is League of Legends related.
50+ average concurrent viewers on your livestreams in the past 30 days and/or 5,000+ average views on your video content in the past 30 days + 1,000 YouTube subscribers.
All applications are subject to review by regional team.
The perks available during early access are primarily focused on video content, but this is subject to change as the program evolves.
Partners are legally required to notify viewers that they're receiving rewards from Riot. To comply, Riot will send partners a League Partner badge that they'll need to display for their viewers.
Giveaway Rewards
The following Emerald chromas are available via the Partner Program:
Partner Program Chromas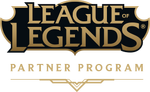 The following Emote is available via a prototype version of the Partner Program:
As with other giveaways, you will receive the associated champion and skin for free if you do not own them.
Giveaway content is made available for

Blue Essence once during a subsequent Essence Emporium sale corresponding to its release date—January-June releases in the end-of-year emporium and July-December released in the mid-year emporium—but are otherwise exclusive to the Partner Program.[2] Chromas are priced at

10,000 and emotes are priced at

25,000. You must first own the associated champion and skin in order to purchase these chromas. To clarify, it is only the giveaways that unlocks associated content for free.
FAQ
Taken from the introduction page. Outdated information is noted in italics.
Details:
1. How long does it take to be approved?
The time it takes to approve your application for each region will vary as each local team will review and approve creators. Due to a large amount of applications, we expect this to take a few weeks.
2. What if I don't meet the viewer count requirements?
Past applications that don't meet these thresholds will not be revisited, so please apply once you meet the requirements. If you need to re-apply, we suggest waiting 30 days so that you can grow your content and channel(s).
3. How do I receive rewards?
We'll add rewards directly to the account you sign up with, or email rewards to the email address associated with the account (which is why you'll need to use a verified email address).
4. How do the giveaways work?
Every few patches, one of the new skins will include an exclusive chroma only available through codes given to content creators. There may be ways for other players to obtain those chromas in the future, but don't have plans for that at the moment.
5. What if I don't own the champion or skin for the chroma?
Any partner chroma loot includes the champion, skin, and special chroma all in one.
6. Are there restrictions on the giveaway codes?
Codes are locked to the region you play in, and expire after four weeks. Selling codes is explicitly not allowed. Creators found to be selling codes will be removed from the program.
7. Will I get Divine Sword Irelia codes for my viewers?
This first reward is just for creators. Once you're approved, the next set will include codes for your viewers.
Partner List
References