"You belong in a museum!"

This article or section may contain obsolete information, but exists here for historical purposes.

This item has been removed on patch V6.12.
Orb of Winter was a legendary item in

League of Legends. It was exclusive to Howling Abyss.
Recipe
Cost Analysis
Gold Value
Gold Efficiency*
70.91%

gold efficient.
base stats were
Similar items
Notes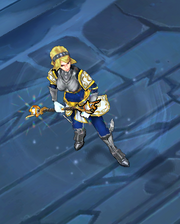 Trivia
Orb of Winter granted the highest amount of  magic resistance (70) from a single item (excluding items) before it was removed.
Pentakill's first volume, Smite and Ignite, named its eighth track after this item.

Patch History
Removed from the game.
Replaced by
.
Health regeneration changed to 100% base health renegeration from 20 flat.
Stats:

+20 health regen per 5 seconds, +70 magic resist.

Unique Passive:

Grants a shield that absorbs damage. The shield will refresh after a short period without taking damage.

Availability:

Howling Abyss
References
Starter items
Pots and Consumables
Trinkets
Distributed items
Boots
Basic items
Epic items
Legendary items
Mythic items
Ornn's Mythic item upgrades
Champion exclusive items
Minion and Turret items
Removed items
Community content is available under
CC-BY-SA
unless otherwise noted.