Roblox: DeepWoken - The Loop
Play Sound
Omikayalan, known also as the Heart of the World or the Greenglade, is a sacred grove to all Ionians which was located in Navori.
Lore
The vastayashai'rei protected its most important landmark: the God-Willow, a massive tree, dripping with long gossamer leaves that shimmered with golden-green light. During ancient times, a battle between the groves protectors and Freljordian warriors ended with the God-Willow's destruction. The whimpers of countless beasts, the bawling of rivers, the howling of trees and the dripping tears of moss, they lamented the God-Willow's death in a symphony of mourning. Centuries have passed and at the place where the God-Willow once stood, a being known as the

Green Father emerged with a clear mission and purpose: to protect all life and teach the world's people to respect and appreciate all that is.
Champions of Omikayalan
Wildlife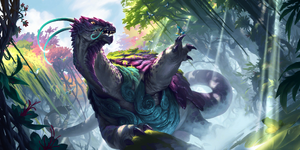 God-Willow
One of the oldest magical trees in Ionia, it was destroyed centuries ago by Ivern the Cruel, who absorbed its power and became the

Green-Father.
Scaled Snapper
Scaled Snappers are giant turtle-like lizard creatures that reside in Ionia. One of the oldest inhabitants of the Greenglade, they have withstood the test of time through constant adaptation.
Media
See Also
References