"Time for a shakedown."

This article or section may require clean-up to meet League of Legends Wiki's quality standards. Reason given: none.

Please help improve the article if you can.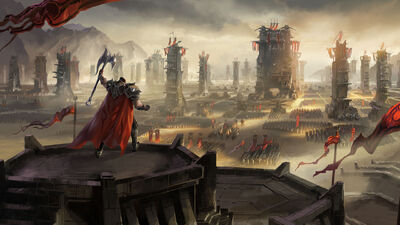 For the lore region, see Noxus.

Noxus is a Legends of Runeterra regional card set based on the lore region of

Noxus.
Noxus focuses on early game aggression - utilizing direct damage spells and low-cost creatures with aggressive stats (High attack but low health). Noxus lacks end-game cards and can run out of steam against bulkier decks.
Main Mechanics:

Fearsome, Few defensive mechanics, High

Power & Low
Health,
Can't Block,

Overwhelm,

Power synergy,

Stun,


Nexus damage, Direct damage (on allies and enemies), Surviving damage
Lesser Mechanics:

Attack,

Challenger,

Discard,
Rally,

Support
Description

All-Out Assault
A brutal, expansionist empire where might makes right,

Noxus sprawls across the continent in a struggle for complete dominance. However, within the region's borders beats a heart fueled by the blood, sweat, and tears of its dedicated citizens, allowing any who would try for power to step forth and seize victory...if they're able. Do you have what it takes?
List of Cards
Trivia
Media
References
Community content is available under
CC-BY-SA
unless otherwise noted.