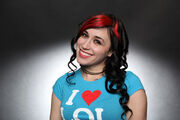 Nika 'Nikasaur' Harper worked at Riot Games Inc. as a Community Coordinator.
Skills: Pez Marksmanship + 20, Spontaneous Dance Moves + 10
Profile
Originally referred to as the faceless mythical creature named "Star," Nikasaur grew up in the lawless, unforgiving jungles of the internet amongst music-worshipping natives before she discovered the dangerous oasis of video games. Abandoning the temperate SoCal climate, she migrated to spend a year in captivity at Telltale Games where she blogged and perfected the art of sneak-attack hugs until Riot offered her warmer weather and proximity to the largest corporate collection of shake weights in the world. She is fluent in Typo, LOLcat and Italics, and easily identified by her colorful plumage and shrieking call.
Special Ability
Cachinnate: Nikasaur emits explosive laughter, stunning all humans in a cone and inspiring raised eyebrows in adjoining rooms.
Trivia
Gallery
Leadership
Corporate
Production
Producer

Carl 'Status Kwoh' Kwoh
Mark Franz
Steven Snow

Assistant Producer

Aaron 'Lindorn' Smith
Ryan 'RyanLaughlin' Laughlin
'TheGreatHembini'

Associate Producer

'Gifted Wolf'
Karen 'KarrieBear' Wnuk
'Stallion'

Miscellaneous Producer

Jason 'FastLoris' Lenny
'MrCrumb'

Operations

Chris Ward
Chris Collier
Nathan Ben-Attar

Engineering

Andrew Woo
Barry Livingston
Christopher McArthur
Cyriaque Kouadio
David Banks
David Eilering
George 'Fruitstrike' Skleres
Jianfei Liao
Joel Anderson
Jonathan McCaffrey
Kevin Borer
Kirk Black
Luke 'Rabid Llama' Rinard
Michael Root
Mike Matsumura
Ray Perez
Scott Delap
Scott Gelb
VerrDon Mason
Vic Keenan

Art
Narrative

Joe 'ManWolfAxeBoss' Lansford

Design
Game Design
Technical Design
Community

Nika 'Nikasaur' Harper
Quentin Chappet
Radosław Pasternicki

Quality Assurance
Customer Service
User Interface
Marketing

Andy 'fantasyworld' Ho
Chris Enock
Chris Heintz
Jeffrey Pfingsten
Laura 'Moneypenny' Brown
Kevin Cheung

Business Development
List of people without article
Community content is available under
CC-BY-SA
unless otherwise noted.