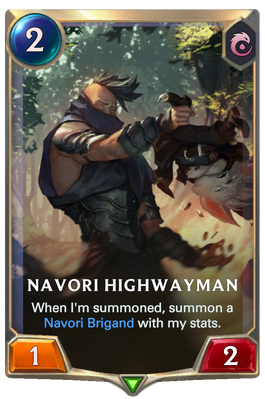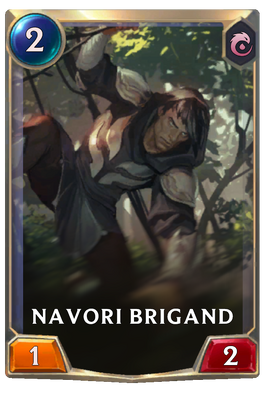 Tutorial Version
Quotes
 "My friend and I are... toll collectors."
 "Heard you're new in the area."
 "We don't want aaany trouble."
 "Pay up!"
 "Those pockets look awful heavy."
 "Road's got a toll, and you're payin'."
 "Times are tough."
 "I'm trying to feed my family."
Allied Navori Brigand
 "Crime didn't pay..."
 Navori Highwayman groans.
 "Yeah, what he said."
 "Hey boss! What we got?"
 "Rob the rich, give to me."
 "Get 'em!"
 "Oh you're in for it."
 "Give me silver or I'll give you steel!"
 "Just looking out for the public."
 "Boss said so."
Allied Navori Highwayman
 Navori Brigand groans.
 "Was all just talk..."
 "Boss won't be happy..."
Trivia
Internally, Navori Brigand is called Navori Quickblade.
The robbed Yordle is the Yordle Grifter.
Both Navori Highwayman and Navori Brigand use the same artwork.
Both also appear in the background of:
Media
Community content is available under
CC-BY-SA
unless otherwise noted.