Arcane: League of Legends - The Loop
Play Sound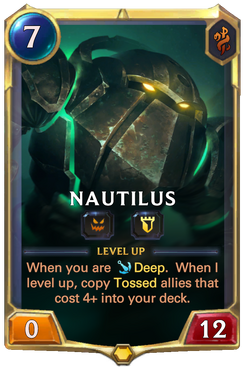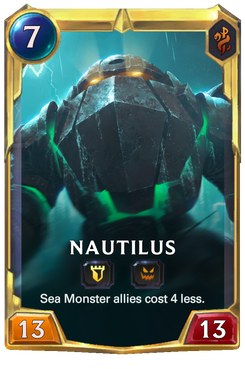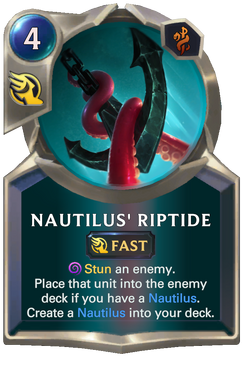 Notes
Before Patch 2.11, if muliple Nautilus Level Up when multiple were on board, they all triggered their Level Up effects, once per on-board Nautilus.

4

Ashe on the other hand, who has her Level Up effect in the text of her Level Up condition, would only trigger once.
This was removed in Patch 2.11, when the text was moved from the Level 1 card to the level-up specifically.
Trivia
Nautilus's Riptide is based on .
Nautilus is tied with level 2

6

Nasus for gaining the most total stats when Leveling Up, at 14 total stats gained.

He also gains the most Power when he Levels Up, at 13.

Nautilus is voiced by Richard Newman.[1]
Quotes
Allied

5Gangplank present
Enemy

5Gangplank present
Allied

4Ekko present
Allied

1Fizz present
Enemy

1Fizz present
Allied

4Maokai present
Allied

3Nami present
Enemy

7Nautilus present
Allied

4Pyke present
Allied
2 Coral Creatures present
Allied
1 Dreg Dredgers present
Enemy
1 Dreg Dredgers present
Enemy
3 Jaull Hunters present
Allied

5Gangplank
Allied

1Fizz
Enemy

1Fizz
Enemy

7Nautilus
Allied

1Teemo
Allied
4 Zap Sprayfin
Allied
5 Abyssal Eye
Allied
3 Bubble Bear
Allied
2 Coral Creatures
Allied
6 Devourer of the Depths
Allied
1 Shellshocker
Enemy
8 The Leviathan
Enemy
7 The Syren
Allied
4 Chum the Waters
Allied
0 Devour
Allied
3 Lure of the Depths
Allied
4 Riptide
Allied
4 Salvage
Allied

1Fizz
Allied
4 Zap Sprayfin
Allied
3 Bubble Bear
Allied
2 Coral Creatures
Allied
1 Shellshocker
Turn timer appears
Allied turn timer
Enemy turn timer
Removed from Combat or Play
Brought back to Combat or Play
Victory
Defeat
Change Log
Nautilus
V2.11

Text becomes: ""

Old Text: "When I Level Up, copy Tossed allies that cost 4+ into your deck."

Level Up becomes: "When you are Deep. When I level up, copy Tossed allies that cost 4+ into your deck."

Old Level Up: "When you are Deep. "

V1.0
Nautilus (Level 2)
V1.0
References