Fire Emblem Warriors: Three Hopes - The Loop
Play Sound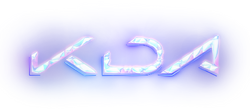 For information about Kill Death Assist ratio, see KDA
Lore
K/DA exploded into the music scene with their hit song "POP/STARS." Fans of K/DA can't get enough of their unconventional flair, from the trademark tails (which fans suspect are real) to otherworldly decor in their studio. "Our songs are for you to remember—-always be true to yourself," says lead singer Ahri. K/DA hopes to take their music around the world in a global tour.
K/DA is also a virtual band in real-life comprised of League of Legends champions which are performed by musicians such as: Bea Miller, Jaira Burns, Madison Beer, Miyeon, Soyeon, and Wolftyla. Each member of the band has a skin corresponding to their K/DA alter-ego (with Evelynn and Kai'Sa having two different artists), which is styled after modern pop music.[1]
The Girls


Setting her old bubblegum pop persona aside, Ahri was determined to shake up her image and reinvent herself as an unstoppable force within the music industry. Five years later, she has returned with a sleek new look and a killer sound—and this time she's not alone.



When Ahri's record company discovered her, she was only a teenager, but she had swept the music world like a storm - released five hit singles and won the 2013 Pop Shine Awards. "The Most Talented K-Pop Rookie Award". Then she disappeared as quickly as she appeared, taking time away from the music industry and devoting herself to self-reinvention.

Decked out to dazzle, K/DA Ahri charms her audience in a glittering, golden ensemble specially made for her band's Pop Shine Awards performance. Her Prestige Edition outfit celebrates the golden success of POP/STARS. Can you feel the rush now?


When Ahri steps onto the stage to perform with K/DA, she knows she's surrounded by the best of the best—different girls with different personalities, all at the top of their craft. As their leader and as their friend, Ahri is poised to guide these divas to even greater heights and leave their audiences breathless for more.

Akali's street aesthetic and hard-hitting lyrics inspired a dedicated fandom. She wields a microphone or kama as a hip-hop ninja, revolutionizing the stale scene with her raw talents.


K/DA Akali is on fire right now, spitting rap solos at the Pop Music Awards—and her prestigious costume is exactly what you'd expect from the new golden child of pop.


Fresh off her success with True Damage, Akali hits the stage full-throttle with her bold edge and fresh new direction. She spits fire with a mic in hand and pushes the band to the bleeding edge, because that's what the baddest do.

No one is as deliciously volatile as Evelynn. She's a diva who drives divisiveness in the media—they love her one day and hate her the next, her name a permanent fixture of tabloid headlines. She is a born superstar, and the foundation of K/DA's sound.


With that wild in her veins, K/DA Evelynn stomps into the spotlight, shimmering in a custom golden outfit from the Pop Music Awards. Only 'winning, winning' now.


With a single devastating glance, Evelynn can ensure that all eyes are on her—when she wants them to be. K/DA's success has ensured that this provocative diva's name will be on everyone's lips, but Evelynn is intent that her killer fashion sense will keep it there.

A talent from abroad, Kai'Sa brings a unique style and sound to the industry. She learned to express herself through her craft, blossoming into one of the most talented dancers in the world—a perfect fit for the misfits of K/DA, where she takes their performances to the next level.


Fresh from her appearance at the annual Pop Music Awards, K/DA Kai'Sa is now wearing a prestigious all-gold costume—catching the eye of the entire world.


After showcasing her flawless dance techniques world-wide, Kai'sa is ready to apply her legendary discipline and focus to all aspects of her life as a performing artist. She's still not sure who she'll be when she steps forward to shine as herself, but she's looking forward to the challenge of finding out.

When Kai'Sa wanted a red carpet outfit to match her growing confidence in her artistry, she sought Evelynn's advice. With sharp tailoring and embellishments that match her excellence in execution, Kai'Sa's ready to shine on and off the stage.
Guest Artists

With a stunning voice and a sunny disposition, Seraphine has big dreams about her music and what she can offer the world. She knows that someday, if she just keeps trying, she'll make her beloved cat Bao proud.


Seraphine's life is changing faster than she ever expected, and she's trying to hold on to her unique voice, keep up with Kai'Sa's intimidatingly sharp choreography, and still somehow manage to get enough sleep.

After her whirlwind rise to stardom, Seraphine is on top of the world, and the charts, with her feature on K/DA's new EP. Her music and her message are resonating with her fans, and she's excited to show them what's to come on her journey of self-discovery through music.
History
POP/STARS
Interview: Inside K/DA
The Day Before Snowdown
Breakout
Harmonies
Sharp
ALL OUT
Trivia
This skinline takes place five years after the debut of .

This a reference to the fact that the K/DA skins were released 5 five years after .

is a big fan of  music.[2]

Certain aspects of some skin universes can be found across the skins multiverse including K/DA's music.[3]

In the Universe K/DA page, under the 8 facts about list it is stated that "Karthus is an artist she takes inspiration from." This is most likely a reference to .
During development Riot went through over 70 different designs for the skins.[4]

alone had over 40 iterations.[5]

K/DA shares universes with DJ, Pentakill and True Damage.[6]
Afrikaans nickname is a reference to her voice actress, Natasha Loring, who is South African.
formed a new music group as a side project, and recruits new talent.[8]
dad.[9]
exists in this universe as just
, , and have performed at Pop Music Awards.
In Legends of Runeterra K/DA have their own spells.
Media