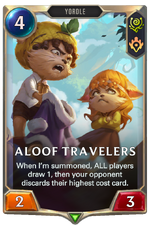 Multi-region is a category of cards in

Legends of Runeterra that have more than one

Region assigned to them. It is currently exclusive to

Bandle City.
These cards are considered to be of all their regions simultaneously in regards to effects that specify one. For example,
4 Aloof Travelers is valid for the

allegiance effect of both
4 Sumpsnipe Scavenger and
4 Gruff Grenadier.
When deckbuilding, a multi-region card can't be added without first adding at least one copy of a mono-region card from one of its regions.
List of Multi-region cards
Name
Type
Subtype
Region(s)
Rarity

01PZ008
Teemo
Unit
Yordle
 Bandle City
 Piltover & Zaun
1
1
1

Champion

01PZ008T2
Teemo
Unit
Yordle
 Bandle City
 Piltover & Zaun
1
2
2

01PZ056
Heimerdinger
Unit
Yordle
 Bandle City
 Piltover & Zaun
5
2
4

Champion

01PZ056T10
Heimerdinger
Unit
Yordle
 Bandle City
 Piltover & Zaun
5
3
5

02BW046
Fizz
Unit
Yordle
 Bandle City
 Bilgewater
1
2
1

Champion

02BW046T3
Fizz
Unit
Yordle
 Bandle City
 Bilgewater
1
3
2

03IO002
Lulu
Unit
Yordle
 Bandle City
 Ionia
3
3
3

Champion

03IO002T1
Lulu
Unit
Yordle
 Bandle City
 Ionia
3
4
4

05BC010
Shark Trainer
Unit
Yordle
 Bandle City
 Bilgewater
7
6
6

Rare

05BC018
Pompous Cavalier
Unit
Yordle
 Bandle City
 Demacia
3
1
1

Rare

05BC041
Poppy
Unit
Yordle
 Bandle City
 Demacia
4
2
3

Champion

05BC041T1
Poppy
Unit
Yordle
 Bandle City
 Demacia
4
3
4

05BC058
Kennen
Unit
Yordle
 Bandle City
 Ionia
1
2
1

Champion

05BC058T2
Kennen
Unit
Yordle
 Bandle City
 Ionia
1
3
2

05BC079
Lil Dipper
Unit
Mecha-Yordle, Yordle
 Bandle City
 Shadow Isles
6
6
3

05BC086
Earthshaker
Unit
Mecha-Yordle, Yordle
 Bandle City
 Noxus
6
3
8

05BC088
Rumble
Unit
Mecha-Yordle, Yordle
 Bandle City
 Noxus
4
5
4

Champion

05BC088T2
Rumble
Unit
Mecha-Yordle, Yordle
 Bandle City
 Noxus
4
6
5

05BC089
Trumpetecher
Unit
Mecha-Yordle, Yordle
 Bandle City
 Demacia
5
5
5

05BC093
Veigar
Unit
Yordle
 Bandle City
 Shadow Isles
4
1
4

Champion

05BC093T2
Grand Overseer Veigar
Unit
Mecha-Yordle, Yordle
 Bandle City
 Shadow Isles
4
2
5

05BC096
Tenor of Terror
Unit
Yordle
 Bandle City
 Shadow Isles
4
1
3

Rare

05BC096T1
Bass of Burden
Unit
Yordle
 Bandle City
 Shadow Isles
4
3
1

05BC106
Grumbleslug
Unit
 Bandle City
 Bilgewater
2
2
3

Common

05BC119
Minion
Unit
 Bandle City
 Shadow Isles
2
2
1

Common

05BC129
Arena Kingpin
Unit
Yordle
 Bandle City
 Noxus
3
4
2

Common

05BC140
Poro Sled
Unit
Poro
 Bandle City
 Freljord
5
5
5

Epic

05BC152
Aloof Travelers
Unit
Yordle
 Bandle City
 Piltover & Zaun
4
2
3

Common

05BC160
Proto Poro
Unit
Poro
 Bandle City
 Freljord
1
1
1

Common

05BC163
Ziggs
Unit
Yordle
 Bandle City
 Shurima
3
3
4

Champion

05BC163T1
Ziggs
Unit
Yordle
 Bandle City
 Shurima
3
4
5

05BC167T1
Hungry Owlcat
Unit
Fae
 Bandle City
 Ionia
1
2
1

05BC169
Shadowtech Walker
Unit
Mecha-Yordle, Yordle
 Bandle City
 Ionia
4
2
5

05BC170
Furyhorn Crasher
Unit
Mecha-Yordle, Yordle
 Bandle City
 Freljord
2
3
3

05BC171
Geode Mechaforcer
Unit
Mecha-Yordle, Yordle
 Bandle City
 Targon
2
1
4

05BC172
Professor Von Mech
Unit
Mecha-Yordle, Yordle
 Bandle City
 Piltover & Zaun
4
3
2

05BC173
Salty Spinner
Unit
Mecha-Yordle, Yordle
 Bandle City
 Bilgewater
3
0
5

05BC175
Loping Telescope
Unit
Fae
 Bandle City
 Targon
3
2
2

Rare

05BC179
Yordle Ranger
Unit
Yordle
 Bandle City
 Demacia
6
5
5

Epic

05BC190
Arena Mechacaster
Unit
Yordle
 Bandle City
 Noxus
6
4
5

Epic

05BC196
Dunehopper Mech
Unit
Mecha-Yordle, Yordle
 Bandle City
 Shurima
5
6
6
List of cards generating Multi-region cards