Arcane: League of Legends - The Loop
Play Sound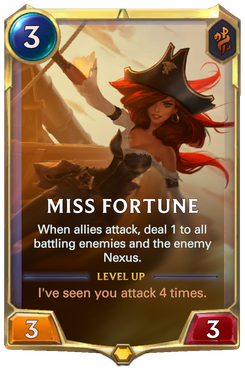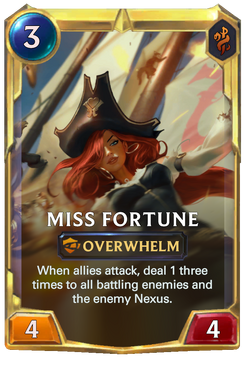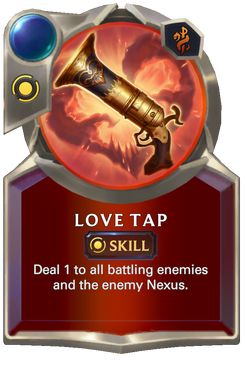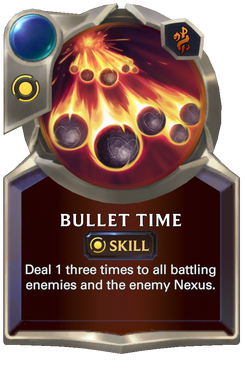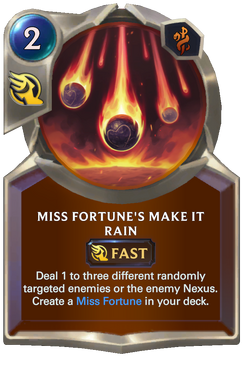 Notes
Miss Fortune can also be drawn by

7

 The Syren.
Miss Fortune levels up upon you declaring your fourth attack, meaning that she will use her leveled up ability instead of her base one, dealing 1 damage thrice the fourth time you attack.
Trivia
Quotes
Allied

4Sivir present
Allied

4Twisted Fate present
    Twisted Fate: "Well, well... Got any more "work" for me?"
Allied

5Vi present
Allied
4 Island Navigator present
Allied
6 Sheriff Lariette Rose present
Allied
7 The Syren present
Enemy

5Garen present
Enemy

5Lee Sin present
Allied

5Gangplank
Allied

5Quinn
    Miss Fortune: "I oughta show you the sights of Bilgewater."
Allied

4Twisted Fate
Allied

5Vi
Allied
1 Crackshot Corsair
Allied
2 Hired Gun
Allied
3 Monkey Idol
Allied
1 Powder Monkey
Allied
1 Prowling Cutthroat
Allied
7 The Syren
Enemy

5Gangplank
Enemy

5Garen
Enemy

3Miss Fortune
Enemy

5Quinn
Enemy

5Swain
Enemy

4Twisted Fate
Enemy
3 Jaull Hunters
Enemy
8 Riptide Rex
Allied
0 Love Tap
Allied
0 Bullet Time
Allied
5 Double Up
Allied
2 Make it Rain
Allied
1 Ye Been Warned
Removed from Combat or Play
Brought back to Combat or Play
Victory
Defeat
Media
Change Log
Miss Fortune
V1.5

Text becomes: "When allies attack, deal 1 to all battling enemies and the enemy Nexus."

Old Text: "When allies attack, deal 1 to battling enemies and the enemy Nexus."

V1.1

Undocumented:

Level Up becomes: "I've seen you attack 4 times."

Old Level Up: "When I've seen you attack 4 times."

V1.0
Miss Fortune (Level 2)
V2.11
V2.1
V1.5

Text becomes: "When allies attack, deal 1 three times to all battling enemies and the enemy Nexus."

Old Text: "When allies attack, deal 1 three times to battling enemies and the enemy Nexus."

V1.0
Miss Fortune's Make it Rain
V2.19

Text becomes: "Deal 1 to three different randomly targeted enemies or the enemy Nexus. Create a

3

Miss Fortune in your deck."

Old Text: "Deal 1 three times among different randomly targeted enemies and the enemy Nexus. Create a

3

Miss Fortune in your deck."

V2.11

Mana cost reduced to 2 from 3.

V1.16

Text becomes: "Deal 1 three times among different randomly targeted enemies and the enemy Nexus. Create a

3

Miss Fortune in your deck."

Old Text: "Deal 1 three times among different randomly targeted enemies and the enemy Nexus. Shuffle a

3

Miss Fortune into your deck."

V1.13

Mana cost increased to 3 from 2.

V1.2

Text becomes: "Deal 1 three times among different randomly targeted enemies and the enemy Nexus. Shuffle a

3

Miss Fortune into your deck."

Old Text: "Deal 1 to three different random enemies. Shuffle a

3

Miss Fortune into your deck."

V1.0
Love Tap
V1.5

Text becomes: "Deal 1 to all battling enemies and the enemy Nexus."

Old Text: "Deal 1 to battling enemies and the enemy Nexus."

V1.0
Bullet Time
V1.5

Text becomes: "Deal 1 three times to all battling enemies and the enemy Nexus."

Old Text: "Deal 1 three times to battling enemies and the enemy Nexus."

V1.0