Map-Specific Differences
Howling Abyss differences
Initial cooldown changed to 120 seconds.
Nexus Blitz differences
Initial cooldown changed to 120 seconds.
Ultra Rapid Fire differences
Initial cooldown changed to 2 minutes.
Minion Dematerializer (Item)
Minion Dematerializer is a consumable item in

League of Legends.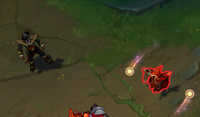 Notes
On modes without minions, Minion Dematerializer is exchanged with .
Activating a Spoils of War ( ).
will trigger
If the targeted minion dies before fully Dematerializing you will still gain the bonus damage.
Minion Dematerializer's bonus damage applies to damage against minions.
Strategy
Minion Dematerializer is best utilized if all Minion Dematerializers are used on the caster minions to help with wave clear on single spell clear oriented champions.
Patch History
Number of
reduced to 3 from 6.
Bonus damage to minions increased to 6% from 4%.
Bonus damage against the same type of minion increased to 3% from 1%.
Initial cooldown reduced to 180 seconds from 240.
Initial cooldown increased to 240 seconds from 155.
V7.22 Added
Inspiration Slot 2 rune.

Passive:

Start the game with 6 , that can be activated to execute and absorb the target Melee minion, Caster minion or Siege minion. Dematerializers begin the game on a 155 second cooldown.
Absorbing a minion grants you the

kill gold

,

experience

, and 4% increased damage to that type of minion for the remainder of the game. Subsequent Dematerializers used on the same type of minion increases this bonus by 1%, up to a maximum of 9% if all six are used on the same minion type.

Cooldown:

10 seconds.

Range:

550 units.
References
Community content is available under
CC-BY-SA
unless otherwise noted.