Mikael's Blessing is a legendary item in

League of Legends.
Recipe
Cost Analysis
Gold Value
Gold Efficiency*
126.09%

gold efficient.
base stats are
Similar items
Notes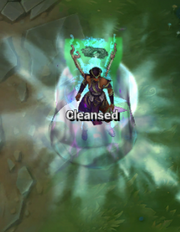 Purify

is a unit-targeted effect.

Purify's

cast does not break stealth.

Purify

has no cast time.

Purify

does not cleanse the following crowd control effects:
Using

Purify

on an ally does not grant assist credit.

Purify

will also cleanse crowd control effects that apply ~0.2 seconds after it has been used. This can be used to preemptively cleanse crowd control that denies activation of abilities (such as being silenced) from yourself if used shortly before the impact. The applied crowd control will still interrupt actions however, such as channels and movement or attack commands.

Purify

will not remove self slows (except ).
Patch History
V10.23 - Added
Replaces .

Stats:

100% base mana regeneration, 50 magic resistance, 15 ability haste, 20% heal and shield power.

Unique Active - Purify:

Remove all crowd control debuffs (except Airborne, Blind, Disarm, Ground, Nearsight, and Suppression) from yourself or an allied champion and heal the target for

100 − 200 (based on target's level)

(120 second cooldown).
Limited to 1 Mikael's Blessing.
References
Starter items
Pots and Consumables
Trinkets
Distributed items
Boots
Basic items
Epic items
Legendary items
Mythic items
Ornn's Mythic item upgrades
Champion exclusive items
Minion and Turret items
Removed items
Community content is available under
CC-BY-SA
unless otherwise noted.