Marrowmark is a trader settlement in southern Shurima.
Lore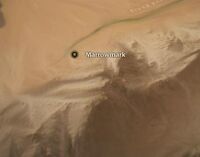 It was erected in the ribcage of some long-dead desert behemoth.
Locations
Marrowmark Market: It is said that anything under the sun can be found in the bazaars of Marrowmark, for the right price.
References
Community content is available under
CC-BY-SA
unless otherwise noted.