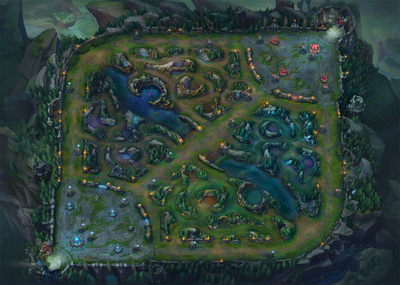 The Maps or Fields of Justice are areas in League of Legends where players play champions and battle against one another in order to achieve victory.
While there are different maps for each game mode, some maps have different skin variants based on seasonal or story events. The most widely used map for seasonal events is Summoner's Rift.
Maps
Playable Maps

See also Arena (Teamfight Tactics)
Discontinued / Event Maps
"You belong in a museum!"

This article or section may contain obsolete information, but exists here for historical purposes.
Unreleased Maps
Lore
"Are we done in this reality yet? Hello? Hellooo?"

This story is no longer considered to be main lore canon, but exists here for historical purposes.
As a direct response to the world's growing physical and political instability, Valoran's key magicians – including many powerful summoners – came to the conclusion that conflicts needed to be resolved in a controllable and systemic way. They formed an organization called the League of Legends, whose purpose was to oversee the orderly resolution of political conflict in Valoran. Housed in the Institute of War, the League would be given the authority by Valoran's political entities to govern the outcomes of the organized conflict they would administer.
The League resolved that all major political conflict would be settled through the use of specially prepared arenas strategically located throughout Valoran. Summoners representing a particular political allegiance would each call forth a champion; the champions, leading mindless minions generated by novice summoners manipulating a Nexus, would fight to achieve the objective of the arena they were in. The most common victory condition of a battle arena would be to destroy the opposing faction's Nexus. These arenas are collectively referred to as "The Fields of Justice".
The fights in the various Fields of Justice over which the League presides are not only of great political interest to Valoran, but also of great social interest. The League magically transmits the sights and sounds of the action as it unfolds to specially built arcane receivers located in key settlements throughout Valoran. Watching a fight in a Field of Justice is one of the more popular entertainment activities Valoran's denizens engage in.
References
Game Modes
Matchmade PVP
Custom
Co-op vs. AI
Training
Rotating Game Modes
Draft types

All Random (ARAM / Custom)
Blind Pick (Normal / Custom)
Draft Pick (Normal / Ranked / Custom)

Tournament Draft

(Custom / Tournaments / Competitive)
Blind With Bans ()

Majority Vote

()

Roulette Vote

()

Banless Draft

(PBE)

Retired / Cancelled

Other Locations