Roblox: DeepWoken - The Loop
Play Sound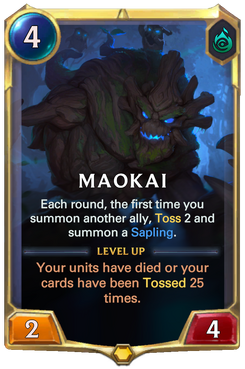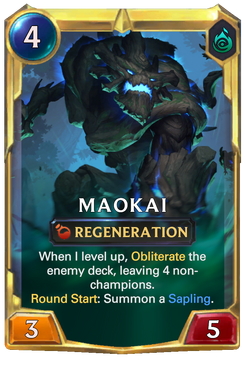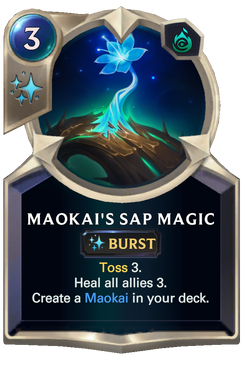 Skins
Level 1
These cursed lands would not break

4Maokai. The treant's commitment ran too deep, and his fury burned too bright, for anything to stand in his way.
Level 2
He would destroy the blight within these isles, and restore its long-lost life.
Worldbreaker Maokai: Rare Skin
And so the cycle of rebirth continues.
Features:
3 new artworks
New visual effects for summoning a Sapling
This skin is available for purchase.
Level 1
Burdened with the gift of revival, the worldweaver resumed his eternal task, scattering saplings across the earth.
Level 2
In the aftermath of destruction, he alone would knit the earth back together, coaxing life from its barren soil. But this hard-earned life, he knew, could never linger.
Sapling
Numerous as the days, the saplings carried limitless potential, each an untapped source of renewal and rebirth.
Trivia
Maokai's Sap Magic is based on .
Quotes
Allied

4Kindred present
Enemy

5Swain present
Enemy

4Twisted Fate present
    Twisted Fate: "I've dealt with you Shadow Isles types before."
Allied
3 Blighted Caretaker present
Allied
5 Neverglade Collector present
    Maokai: "The isles will bloom again!"
Allied

7Nautilus
Enemy

1Fizz
Enemy

5Swain
Enemy

4Twisted Fate
Allied
3 Blighted Caretaker
Allied
5 Neverglade Collector
Enemy
2 Hired Gun
    "You will find only death on these isles!"
Allied
1 Barkbeast
Allied
8 Terror of the Tides
Allied
3 Deadbloom Wanderer
Allied
1 Sapling
Allied
7 Overgrown Snapvine
Allied
3 Sap Magic
Allied
1 Sapling Toss
Turn timer appears
Allied turn timer
Enemy turn timer
Removed from Combat or Play
Brought back to Combat or Play
Victory
    "We will heal these isles!"
Defeat
Unsorted/Unknown
Media
Change Log
Maokai (Level 2)
V1.0