Lost Chapter is an epic item in

League of Legends.

Recipe
Cost Analysis
Gold Value
Gold Efficiency*
119.74%

gold efficient without its passive.
is
Builds Into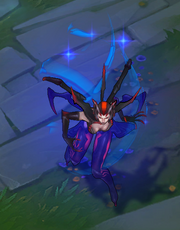 Old icon
Trivia
This item is presumed to be pages that Norra (
master) tore from the when she disappeared.

Patch History
Removed from recipe for
.
New Unique Passive - Haste:

Grants 10% cooldown reduction.
Added to recipe for
, , and .
Removed from recipe for
.
Stats:

+25 ability power, +300 mana.

Unique Passive:

Restores 20% of your maximum mana over 3 seconds upon leveling up.
Builds into
.
References
Starter items
Potions and Consumables
Trinkets
Distributed
Boots items
Basic items
Epic items
Legendary items
Mythic items
Minion and Turret items
Special Game Mode Exclusive items
Removed items
Community content is available under
CC-BY-SA
unless otherwise noted.