Raise a Floppa - The Loop
Play Sound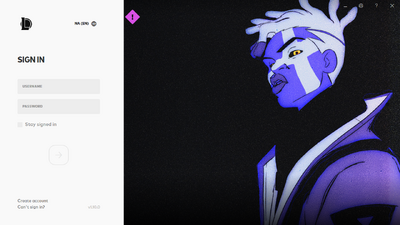 The Login Screen is the front-end interface for accessing League of Legends. PVP.net and the client had this feature. With Riot Games' surge of new titles in late 2019, a new launcher was created to handle multiple games. As of V9.10, the inclusion of Login Screen Animations each patch cycle has been reduced (replaced by music themes with still images), only being included during larger Events.
History
PVP.net Interface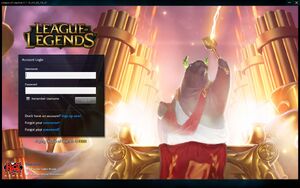 Login screen previously proceeded after the Launcher, now it loads up directly after starting the client and is used by the player to login and sign-in the game, League of Legends. This window helps out sorting each players specific data with the login system. With each passing patch and some event, the Login Screen animation is changed accordingly. It has several options:
Server: The login screen offers the players the ability to switch region servers.
Username: A bracket made specifically to type-in the players personal Username made after he/she created an account. Each player must have a different Username.

If a player can not remember their Username there is also an option that helps with this issue.

Password: A bracket made specifically to type-in the players personal password made after he/she created an account. Each player must have a different password and is the last line of defense for unwanted account use.

If a player can not remember their password there is also an option that helps with this issue.

Sign-up: For those players who have downloaded the game but have not made an account already, the sign-up option links them to Riots account creation screen. This option works in conjuncture with Refer-A-Friend system.
Terms of Use: Link leading directly to the games Terms that are needed to be followed by all players who make an account and play the game.
Media
The Login Screen is accompanied by a video that usually has music and animation. New videos are published to promote releases such as Champions, Skins, and in-game Events. Despite the reduction in new animations, champion themes that would accompany such works are still published, though not as actual login screens.
References