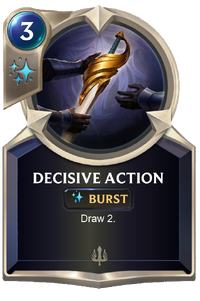 This article contains the complete list of cards created specifically for the Challenge mode. Most are modified versions of

Set 1 cards, and in-game appear as if they're from Set 1. Most or all Challenges added past that Set instead use normal cards. They do not necessarily get changed when their equivalents in the main game do.
Many of these cards are identical or near-identical to their normal equivalents. Some have an identical effect, but different or old wording; there is a number that are significantly different, a large number of which are

Champion cards. There is also a number of these cards that do not have a normal equivalent.
As these cards are exclusive to one, non-Constructed (Legends of Runeterra) game mode, they are all non-collectable.
Lead Designer: Shaun 'Unconkable' Rivera
See more
This navigation section has been placed at the top of the article in case you arrived here by accident.
Trivia
List of cards