Abilities
Notes
Dream Dust, but its triggering damage does.
application does not apply
Dream Dust is applied even if the target takes no damage from an ability, e.g. by being shielded or invulnerable, but not when the ability hit is prevented in the first place (e.g. spell shield).
Each tick of damage occurs every 0.5 seconds, up to 6 ticks.
Notes
Lillia can move during Blooming Blows' cast time.
Blooming Blows will cast from wherever Lillia is at the end of the cast time.
Spell shield will not prevent Lillia from gaining a Prance stack.
Notes
Lillia dashes to her target location over

0.627 to 0.759 seconds

, but cannot move before the strike goes off at 0.759 seconds, regardless.
Lillia can hop over the edges of certain walls despite the ability being unable to traverse terrain.
Notes
Swirlseed's origin is determined from Lillia's position at the start of cast, the rolling direction is determined from Lillia's position at the end of cast (when the projectile is created, not when the seed starts rolling).
Spell shield does not prevent the seed from detonating thus striking nearby targets.
Projectile destroying effects will still make the rolling seed detonate upon colliding with them, but not when the initial arcing missile is destroyed.

If
blocks the initial projectile, it is destroyed and deals 0 damage to him, as well as not triggering the cone-shaped area of effect.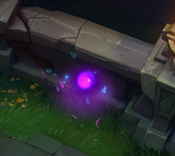 Notes
The sleep debuff is named Shhh.. They're Asleep.
Lillia can move during Lilting Lullaby's cast time.
Lilting Lullaby does not apply to targets that become invalid (whether by becoming untargetable or dying) during the cast time or while the projectile is traveling (which takes approximately 0.3 seconds to reach the target). There is no compensation if none of the intended targets were affected by the ability.
Lilting Lullaby's application does not trigger aggro from turrets, only its triggering damage does.

Lillia to trigger turret aggro, unless she casts Lilting Lullaby right before it runs out.
persistent damage will still cause

Lilting Lullaby cannot be cast without a marked target.
References
Cancelled Champions
Community content is available under
CC-BY-SA
unless otherwise noted.