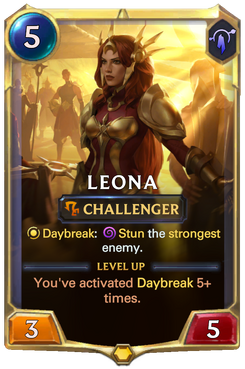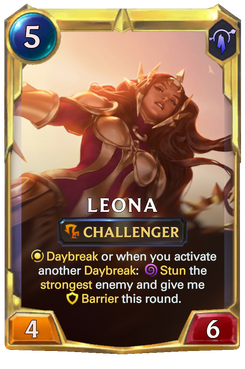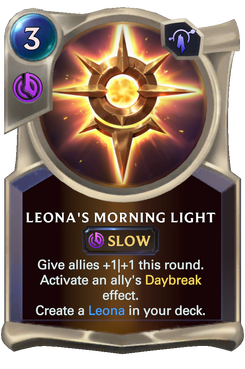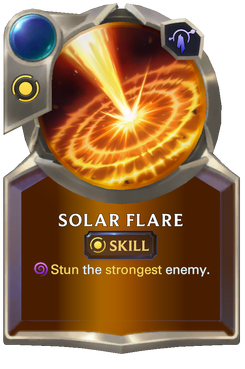 Notes
Trivia
The flavour texts and artworks of level 2

2

Diana and Leona depict them when they finally confronted the other. Both of the artworks are from the other's point of view.

The shadow of Leona can be seen in Diana's artwork.
Quotes
Allied

2Diana present
Enemy

2Diana present
Enemy

3Aphelios present
Allied

3Azir present
Enemy

4Nocturne present
Allied

4Viktor present
Enemy
6 Cygnus the Moonstalker present
Allied
5 Rahvun, Daylight's Spear present
Allied
5 Moondreamer present
Allied
3 Solari Priestess present
Allied
1 Solari Soldier present
Allied
4 Solari Sunforger present
Allied
6 The Golden Sister present
Allied
6 The Silver Sister present
Allied

2Diana
Enemy

2Diana
Enemy

4Nocturne
Allied

4Taric
Allied
4 Solari Sunforger
Allied
5 The Warrior
Enemy
5 The Warrior
Allied
6 Sun Guardian
Allied
8 The Immortal Fire
Allied
5 Morning Light
Allied
0 Solar Flare
Allied
3 Zenith Blade
Allied

2Diana
Enemy

2Diana
Turn timer appears
Allied turn timer
Enemy turn timer
Removed from Combat or Play
Brought back to Combat or Play
Victory
Defeat
Skins
Level 1
She stood amidst them as she prepared for battle--radiating light, bedecked in crimson and gold, her eyes like embers. As the rising sun crowned her head in light, each Solari present lowered their eyes, not in shame, but in deference to their shining leader.
Level 2
This was what Leona had prepared for. She knew she would find Diana fleeing down the mountain, retreating before the light of the sun. She breathed deeply to still her fluttering heartbeat, willing it silent with grim resolve. This time upon their meeting, she had the upper hand; this time, she would face her old friend head-on.
Battle Academia Leona: Common Skin
Striking fear into her classmates' hearts, one flipped tray at a time.
Features:
This skin is available for purchase.
Level 1
Leona had hoped Labrys Academy would prove a worthy challenge, where she would learn and grow as a valiant protector, even amonst the unruly student body. Her hopes were met early, often and to her frequent dismay, unexpectedly.
Level 2
"Overreacting? Preposterous. You called this a food FIGHT. Ready yourselves accordingly, or fall!"
Change Log