Raise a Floppa - The Loop
Play Sound
Available
Legacy Vault
Rare & Limited
Screenshots
Eternals
Trivia
This skin shares the Fables theme with:
Her outfit is based on the
.
sprouts phoenix wings during its trajectory.
makes the phoenix on her shield open its wings to cover her head.
leaves an imprint resembling upon impact.
The Scarlet Macaws in the background reference Michael 'IronStylus' Maurino (she is his brainchild and that bird is his favorite.
The Look of Disapproval emoticon (ಠ_ಠ) is featured in the background. This is a reference to IronStylus's styling of the Scarlet Macaw.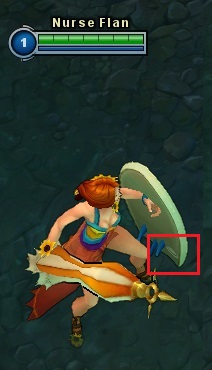 In her splash art,
, , and in the Pool Party attire can be seen in the background.
She was conceived by the playerbase as 'Sunbathing Leona'.
Lunari insignia hidden on its bottom-right inner side. This insignia was originally meant to be a tattoo.
becomes a surfboard with a
This skin shares the PROJECT theme with:
She is from an alternate future in which she was cybernetically augmented as part of the PROJECT Initiative.
describes her as:

"Brilliance in pieces, shrouded in ethereal flame. Protector, light bringer. Lone voice. Stand and fight. In death-heavy fields, now still she stands, light washes over... will sacrifice anything to protect."

If one tells they fight for 'protection' she'll say the following:

" She remembers sunlight."

Her gear includes:
can be seen in the background.
This skin shares the Eclipse theme with:
Both Eclipse skins were originally concepted as a fan skin by Sunny 'Kindlejack' Koda, before he joined Riot.[1]
The sword is based off African blades like the Ikakalaka and the Hunga Munga knife.
Leona has an empowered form after using removed far later, resulting in Leona maintaining the form until death.
. The gameplay purpose was
This skin shares the Eclipse theme with:
Both Eclipse skins were originally concepted as a fan skin by Sunny 'Kindlejack' Koda, before he joined Riot.[1]
The sword is based off African blades like the Ikakalaka and the Hunga Munga knife.
Leona has an empowered form after using removed far later, resulting in Leona maintaining the form until death.
. The gameplay purpose was






References