$ Insert formula here $
"🎵"

This page's quote section is incomplete.
You can help the League of Legends Wiki by styling, sorting, transcribing, or uploading the quotes as needed.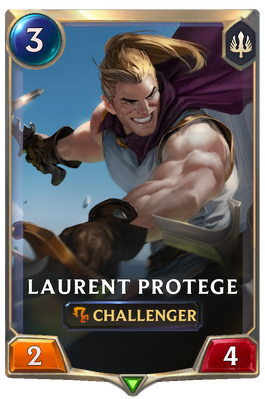 Quotes
 Who does not know the name Laurent?
 Break their spirits, and their souls.
 Strength in grace, beauty in the blade.
 Transcription missing: LaurentProtege_attack_declare_01
 Transcription missing: LaurentProtege_attack_declare_02
 I demand satisfaction.
 You call this a fight?
 Is this my opponent?
 This will not take long.
 I'll close my eyes, make it fair.
 I lost? Groans
 A disgrace
 
Groans
Unsorted
Unsorted
 Transcription missing: LaurentProtege_arrival_interaction_ally_Fiora_LaurentProtege_1_1
 Transcription missing: LaurentProtege_arrival_interaction_ally_LaurentBladekeeper_LaurentProtege_1_2
 Transcription missing: LaurentProtege_arrival_interaction_ally_LaurentProtege_LaurentScion_1_2
 Transcription missing: LaurentProtege_arrival_interaction_ally_LaurentProtege_LaurentScion_2_2
 Transcription missing: LaurentProtege_arrival_interaction_ally_LaurentProtege_LaurentScion_3_2
 Transcription missing: LaurentProtege_attack_commit_challenger_01
 Transcription missing: LaurentProtege_attack_commit_challenger_02