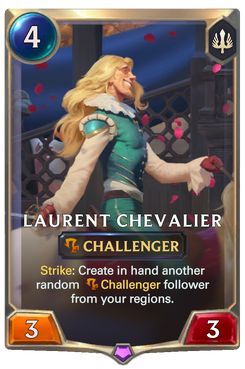 Notes
If you only use regions that don't have Challenger followers ( Shadow Isles, Shurima, and Targon), a

4

 Laurent Chevalier that was created (for example, by

5

 Ethereal Remitter) or stolen (for example, by

5

 Possession) will resolve without effect, meaning it will not generate any Challenger cards.
Labs without set regions count as having all regions, so this card will create a random challenger card from any region.
Trivia
Internally, this card is called Antoine Laurent or Laurent Scion.

3

Fiora is featured in the artwork.
Quotes
Allied

3Fiora present
Allied
4 Laurent Bladekeeper present
    Laurent Chevalier: "Give me a blade, I'll give them a show!"

    Laurent Bladekeeper: "A waste of fine Laurent blood and steel."
Allied
3 Laurent Duelist present
Allied
3 Laurent Protege present
Media
Change Log