{
Champion Select
Pick
Ban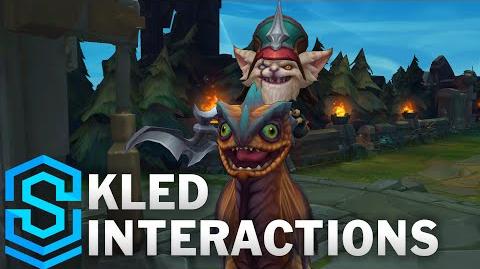 Movement
First Move
 

  

"Them's humans!"

Skaarl growls

 

  

"Naw, they're good eatin'."

 

  

"What was that? Oh, I should go for the decakill? Uh, if you say so."
 

  

"It's my property! All sixty gazillion acres of it!"
 

  

"Holy sh**, where are we?"

Skaarl growls

 

  

"Guess we'll have to kill our way out!"
Moving
While Mounted
 

  

 

  

"Was the battle of Fallgren when I first took the rank of Sergeant General Colonel. Least, I think that's what rank they was. Gotta' remember to ask before killing them."
 

  

 

  

"Remember when we sacked Trevale, and that general thought we'd be willing to share the spoils? Pheh! Officers die just as easy as anybody."
        "At the gates of Qualthala, they tried using that boiling oil on us, but you can't deep-fry courage!"
        "Well, just 'cause you're a hallucination and I don't speak lizard don't mean I can't understand you!"
 

  

 

  

"I am Kled! High Major Commodore of the First Legion Third Multiplication Double Admiral Artillery Vanguard Company! You will respect my authority!"
        "Naw, it's just like the assault on Glorft. You seen one artillery vanguard in a commando fleet action, you seen 'em all."
While Dismounted
Taunt
Taunting an Enemy Noxian
Taunting an Enemy
Taunt Response
Joke
Joke Response
Laugh
Attack
Basic Attacking
Attacking
While Mounted
While Dismounted