Kircheis Shard
is an
advanced item
in
League of Legends
.
[1]
Recipe
Cost Analysis
Builds Into
Similar Items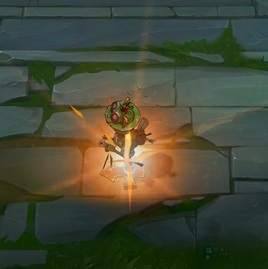 Notes
Each basic attack generates 12 Energize stacks while 1 is generated for every 30 in-game units traveled. This includes but is not limited to walking, using dashes or blinks, casting or , being  pulled or  knocked back/aside.
Kircheis Shard's  Energized strike bonus damage will not stack with , , or .
Trivia
Patch History
Two passive effects (unnamed and

Energized Strike

) merged together into

Energized

.
Energized strike bonus damage increased to 50 from 40.
Bug Fix:

Audio for the empowered attack proc no longer plays through Fog of War.
On-hit damage increased to 40 from 30.
+15% attack speed.
Passive – Energize: Moving and using basic attacks Energize you. When fully Energized, gain Energized Strike.
Unique Passive – Energized Strike: Your next basic attack deals +30 bonus on-hit magic damage.

:
References
Starter items
Potions and Consumables
Trinkets
Distributed
Basic items
Advanced items
Finished items
Removed items