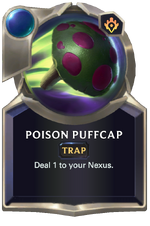 Trap is a keyword in

Legends of Runeterra.
Traps attach to a card in a deck, trapping it. When a player draws a trapped card, the trap's effect triggers for that player. A card can have multiple traps on it.
List of cards with keyword Trap
List of cards granting Trap
Name
Type
Subtype
Region
Rarity
No cards found
List of cards generating Trap cards
Community content is available under
CC-BY-SA
unless otherwise noted.