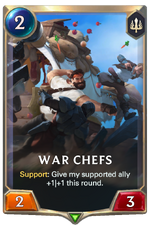 Support is a keyword in

Legends of Runeterra.
Units with Support trigger an effect when they attack if there is an ally positioned to their right (this ally is referred to as the "supported ally" in card text). Support effects are resolved from left to right, at the same time as Attack effects.

Units that are summoned attacking at the same time as the attack is committed with the unit with Support can trigger Support effects.
List of cards with keyword Support
List of cards granting Support
Name
Type
Subtype
Region
Rarity
No corresponding cards found.
List of cards generating Support cards
Community content is available under
CC-BY-SA
unless otherwise noted.