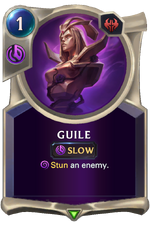 Stun is a keyword in

 Legends of Runeterra.
Stunning a unit removes it from combat. It can't  attack or block for the rest of the round. A  Challenger unit can pull Stunned units in to block.

PENDING FOR TEST Do challenged stunned units  strike still? Are units that are stunned while being challenged removed from combat?
List of cards with keyword Stun
List of cards granting Stun
Name
Type
Subtype
Region
Rarity
No cards found
List of cards generating Stun cards
Community content is available under
CC-BY-SA
unless otherwise noted.