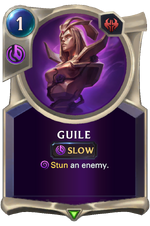 Stun is a keyword in

Legends of Runeterra.
Units that have Stun ('are stunned') cannot have attacks or blocks declared with them. Granting a unit Stun ('stunning it') removes it from combat, even if they were challenged before. You can, however, challenge a unit previously stunned. Stun lasts until Round End.

A unit that is Stunned can be Stunned again, and is counted as being Stunned again.
List of cards with keyword Stun
List of cards granting Stun
Name
Type
Subtype
Region
Rarity
No corresponding cards found.
List of cards generating Stun cards
Community content is available under
CC-BY-SA
unless otherwise noted.