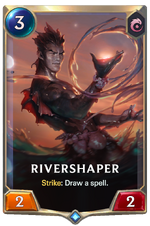 Strike is a keyword in

Legends of Runeterra.
A striking unit attempts to deal damage to its target using its power. A unit with 0 power cannot strike and simply will not if it attempts to.

Strike effects occur when a unit strikes anything, Nexus or Unit.

The strike itself (and any effects that are triggered on the strike, including Nexus Strike on Overwhelm and Lifesteal) will resolve before any of the resulting effects (often "kill" or death effects such as Last Breath).
List of cards with keyword Strike
List of cards granting Strike
List of cards generating Strike cards
Name
Type
Subtype
Region
Rarity
No corresponding cards found.
Community content is available under
CC-BY-SA
unless otherwise noted.