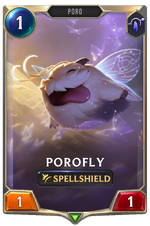 SpellShield is a keyword in

Legends of Runeterra.
SpellShields do not stack.
The nullified effect still 'happens' for the purposes of any spell effects that require them, for example

2

 Vile Feast still summons a

1

 Spiderling if targeting a shielded enemy. Many interactions are still 𝐏𝐄𝐍𝐃𝐈𝐍𝐆 𝐅𝐎𝐑 𝐓𝐄𝐒𝐓 .
List of cards with keyword SpellShield
Name
Type
Subtype
Region
Rarity
No corresponding cards found.
List of cards granting SpellShield
List of cards generating SpellShield cards
Community content is available under
CC-BY-SA
unless otherwise noted.