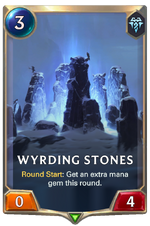 Round Start is a keyword in

Legends of Runeterra.
Effect triggers when the round starts.
There are two types of Round Start effects: Delayed effects (cards cast in the previous turn that gives an effect this turn, such as Sapling Toss) and Board effects (effects of cards on your bench).
Round Start Delayed effects are first resolved, followed by Board effects, resolved from left to right, starting with the player who pressed "End Round" last turn. The exception is
3 The Undying, which always resolves last.
List of cards with keyword Round Start
List of cards granting Round Start
List of cards generating Round Start cards
Community content is available under
CC-BY-SA
unless otherwise noted.