For card, see

1

 Recall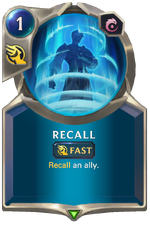 Recall is a keyword in

Legends of Runeterra.

If the player already has 10 cards in their hand, the card will be

obliterated.
List of cards with keyword Recall
List of cards granting Recall
Name
Type
Subtype
Region
Rarity
No corresponding cards found.
List of cards generating Recall cards
Community content is available under
CC-BY-SA
unless otherwise noted.