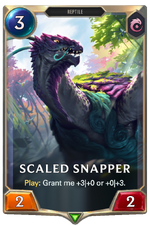 For main menu tab, see Play (Legends of Runeterra).

Play is a keyword in

Legends of Runeterra.
Unit: summoning directly by the player ie. dragged from the hand onto the board. Other effects that summon a unit onto the board do not trigger Play effects.

Spell: Burst spells play and resolve as soon as they're dragged to the board, slower spells play after the Button is pressed. Different to casting, which refers to when the spell's effect happens. Spells will usually require that their condition to cast (See Fizzle) be met at the time they are played, to play, even if it would be met after the spells before it on the Stack cast.


Some cards have an effect that must happen if they are to be Played. These will happen when the card is dragged to the board, before any play effect happens. If the condition cannot be fulfilled by not being able to perform an effect, then the card will not be Played.
List of cards with keyword Play
List of cards granting Play
Name
Type
Subtype
Region
Rarity
No corresponding cards found.
List of cards generating Play cards
Community content is available under
CC-BY-SA
unless otherwise noted.