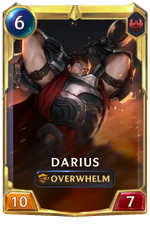 Overwhelm is a keyword in

Legends of Runeterra.
Unit: When a unit with Overwhelm is attacking, damage dealt with its attack's strike over what should kill its blocker by its is dealt to the enemy Nexus. This counts as striking the Nexus.

Spell: Damage dealt to a Unit by a spell with Overwhelm over what should kill it is dealt to the enemy Nexus.



Both:
If the unit being affected by Overwhelm has been removed, all of the damage that would have been dealt to it is instead dealt to the enemy Nexus.
If the damage taken by the unit is fully mitigated (eg. Barrier,

8

 Unyielding Spirit), the damage to the Nexus will be calculated as normal (deducting the damage that would otherwise be necessary to kill the unit) even though the target stays alive.
List of cards with keyword Overwhelm
List of cards granting Overwhelm
List of cards generating Overwhelm cards