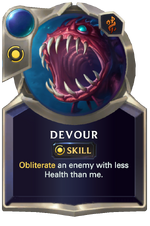 Obliterate is a keyword in

 Legends of Runeterra.
Completely remove specified instances of card(s) from the game and destroy attached  Traps.

Does not trigger  Death (eg. ) or  Discard effects. Obliterated  units aren't considered dead, and so can't be  revived.
When cards are obliterated from either player's deck or hand, they are shown to both of them (exception: Maokai's  Level Up).
List of cards with keyword Obliterate
List of cards granting Obliterate
Name
Type
Subtype
Region
Rarity
No cards found
List of cards generating Obliterate cards
Community content is available under
CC-BY-SA
unless otherwise noted.