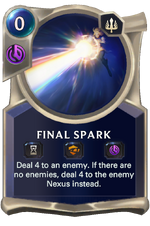 Fleeting is a keyword in

Legends of Runeterra.
Cards with Fleeting discard when the round ends.

Fleeting is removed from a unit when it is summoned.
𝐏𝐄𝐍𝐃𝐈𝐍𝐆 𝐅𝐎𝐑 𝐓𝐄𝐒𝐓 How does this interact with spells? Do they need to be played, or resolve? Test with 1 Spell Thief.
Notes
Fleeting is thematically associated with gambling, luck, science, and investigation.
Fleeting is used in a gameplay sense as a way of allowing an effect to occur multiple times in a round, or as a "use it or lose it" mechanic (eg.

3

Ezreal, the Quick Draw Lab) that incentivizes either careful or reckless risk-taking play.
List of cards with keyword Fleeting
List of cards granting Fleeting
List of cards generating Fleeting cards