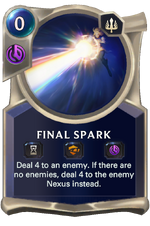 Fleeting is a keyword in

Legends of Runeterra.
Cards with Fleeting discard when the round ends.

Fleeting is removed from a unit when it is summoned.
PENDING FOR TEST How does this interact with spells? Do they need to be played, or resolve? Test with 1Spell Thief.
Notes
Fleeting is thematically associated with gambling, luck, science, and investigation.
Fleeting is used in a gameplay sense as a way of allowing an effect to occur multiple times in a round, or as a "use it or lose it" mechanic (eg.

3

Ezreal, the Quick Draw Lab) that incentivizes either careful or reckless risk-taking play.
List of cards with keyword Fleeting
List of cards granting Fleeting
List of cards generating Fleeting cards
Community content is available under
CC-BY-SA
unless otherwise noted.