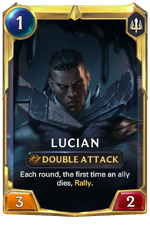 Double Attack is a keyword in

Legends of Runeterra.
Double Attack allows a unit to Strike twice when attacking — the first being a quick attack, the second occurring at the same time the blocking unit strikes.
Trivia
Internally, this is called Double Strike.
Notes
If a unit has both Quick Attack and Double Attack, only Double Attack has an effect.
List of cards with keyword Double Attack
List of cards granting Double Attack
Name
Type
Subtype
Region
Rarity
No cards found
List of cards generating Double Attack cards
Community content is available under
CC-BY-SA
unless otherwise noted.