Deep is a keyword in

Legends of Runeterra.
Notes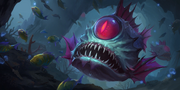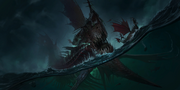 Cards with the Deep keyword have additional text reading "X away from Deep" or "You are Deep" to indicate how close their player is to reaching it.
The only cards with Deep are Sea Monsters, and all Sea Monsters have Deep.
Deep is thematically associated with the monsters that roam the seas of Runeterra, particularly the depths around the Serpent Isles and the oceans surrounding the Shadow Isles, and the horror of the impending destruction they bring, and of the unknown or unknowable.
List of cards with keyword Deep
List of cards granting Deep
Name
Type
Subtype
Region
Rarity
No cards found
List of cards generating Deep cards
See also
Community content is available under
CC-BY-SA
unless otherwise noted.