Arcane: League of Legends - The Loop
Play Sound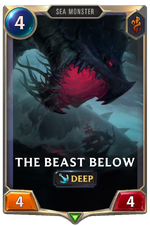 Deep is a keyword in

Legends of Runeterra.
Notes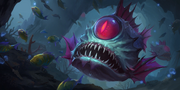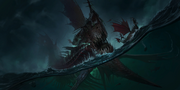 "
"She swallowed me whole, me skiff and me soul,
So I'm singin' this song in her belly,
And now I must wait 'til I meet my fate,


0

 In the Wing-Eared Sunken Lady."
— "Ballad of the

6

 Wing-Eared Sunken Lady"
Cards with the Deep keyword have additional text reading "X away from Deep" or "You are Deep" to indicate how close their player is to reaching it.
The only cards with Deep are Sea Monsters, and all Sea Monsters have Deep.
Deep is thematically associated with the monsters that roam the seas of Runeterra, particularly the depths around the Serpent Isles and the oceans surrounding the Shadow Isles, and the horror of the impending destruction they bring, and of the unknown or unknowable.
Strategically, this keyword very heavily synergises with

7

Nautilus,

4

Maokai, and Toss cards.

There is an extreme risk of decking out with Deep decks, Nautilus' Level Up can counter it somewhat, and Maokai's can make it more of a risk for the opponent, but it is still a consideration with these decks.
List of cards with keyword Deep
List of cards granting Deep
Name
Type
Subtype
Region(s)
Rarity
No corresponding cards found.
List of cards generating Deep cards
See also