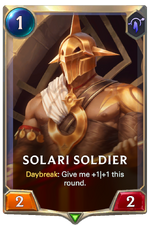 Daybreak is a keyword in

Legends of Runeterra.

Spell: Daybreak effects happen when the spell casts, if it was day when they were

played.

Spells that only have a Daybreak effect can only be played and cast if Daybreak would trigger.
Notes
Daybreak is thematically associated with the divine power of the Solari and the sun, and large bursts of power.
Day and Night is not a binary state - it can be both Day and Night at the same time.
Development
"
"When we first tested, I had people come up to me afterwards to say how awesome/flashy day was, but they were nervous about the difficulty of using night, while a second group approached me to say how clever night felt, but day was too obvious. This convinced me of both mechanics."
— Shawn 'Eyebrow Poro' Main[1]
Riot Eyebrow Poro spoke about how Daybreak cards' design was intentionally "awesome/flashy" and "obvious", in direct thematic contrast to Nightfall.
Trivia
Among Targon Daybreak cards, there is a large number of temporary, powerful effects, when Targon as a whole tends to have a focus on permanent effects.
List of cards with keyword Daybreak
List of cards granting Daybreak
Name
Type
Subtype
Region
Rarity
No corresponding cards found.
List of cards generating Daybreak cards
Community content is available under
CC-BY-SA
unless otherwise noted.