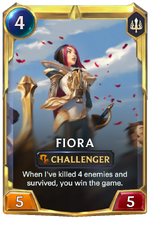 Challenger is a keyword in

Legends of Runeterra.
Challenging: A unit Challenging another is it forcing the other to commit a block against it, even if it wouldn't be able to block it normally (eg. Can't Block). The player whose unit was Challenged cannot change what unit the Challenged unit is blocking through normal means, though it can be forced out of that position through effects such as Swapping and Stunning.

Challenger: When declaring an attack, with, the player can choose which enemies allies with Challenger will Challenge when the attack is committed, by dragging them into the blocking position.
Notes
This keyword has a wide range of thematic associations and gameplay purposes, but it by far has its largest presence in Demacia, and then Noxus.

In a general sense, Challenger units tend to, thematically, be those that can in some way pick their fights, assassinate others, or occasionally it can represent units that in some way hinder, stun, or trap, or those that are reckless.
Demacia

Demacia has a number of ways to grant Challenger, as well as having a number of durable and healthy units with square stats with the keyword, and cheap, 1 Health and low Power units with it. Notably, the region has

3

Fiora, who uses the keyword to help her Level Up condition, and then win the game through alternative means. Challenger also generally is used to fit the region's general theme of winning games and removing enemy units through the strength of your allies alone.
In Demacia, the keyword is largely thematically associated with the Laurent House duelists, as well as duels, duelists, and taking up fights in general, winged animals and beasts that assault, claw, and maul, and the reach, and confrontationalism of their Dragons, which sets them apart from Targon's.
Demacia has an archetype it shares with Shurima, with units that gain bonuses for Challenging, without having Challenger themselves, and so benefitting from the region's Challenger-granting cards, or others' Vulnerable-granting cards.

Noxus

The presence of this keyword in Noxus is generally in the form of high Power, low Health units, which can represent recklessness, and generally fitting this region's theme of having large damage and low defensive abilities, and encourages these units being used to kill others, rather than being used defensively, and as such these units tend to be Reckoners, hunters, or clingy and crawling creatures (which tend to have a low Power, but high ability to swarm).

Piltover & Zaun

The keyword's precense in Piltover & Zaun is largely in the form of cheap, easy to bring to the board, 'disposable' units that exist to 'lock up' enemy units, to stop them from blocking other allies.
Thematically, in the region, the keyword is more often than not associated with small, fragile or volatile devices that distract, stun, or trap, such as

2

 Flame Chompers!.
List of cards with keyword Challenger
List of cards granting Challenger
List of cards generating Challenger cards