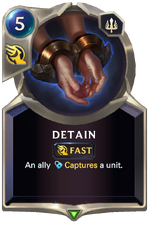 Capture is a keyword in

Legends of Runeterra.
A unit that is Captured is removed from play completely until such point that the Captor is removed from play, after which they are summoned again.

Captured units are not affected by Everywhere effects.
List of cards with keyword Capture
List of cards granting Capture
Name
Type
Subtype
Region
Rarity
No corresponding cards found.
List of cards generating Capture cards
Notes
Exact copies of a captor will all be considered capturing the same unit, and the first to leave play will release the captured unit. The rest will no longer be considered captors.
Community content is available under
CC-BY-SA
unless otherwise noted.