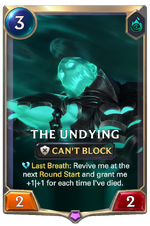 See also: Can't Attack, Immobile
Can't Block is a keyword in

Legends of Runeterra.
Blocks cannot be declared with units with Can't Block (ie. Dragging the unit into the blocking position).

Effects that force a unit to block, such as Challenger or swapping it with another unit can force it to block an attack.
Notes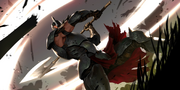 This keyword is often used to balance various otherwise powerful effects, and it has an occasional thematic association with recklessness.
This keyword is combined with Can't Attack in the Immobile keyword.
Trivia
Internally, this keyword is called "Reckless", which is, interestingly, in the name of one of the first cards with the Keyword -

3

 Reckless Trifarian.
List of cards with keyword Can't Block
List of cards granting Can't Block
Name
Type
Subtype
Region
Rarity
No corresponding cards found.
List of cards generating Can't Block cards
Community content is available under
CC-BY-SA
unless otherwise noted.