See: Spell (Legends of Runeterra)#Speed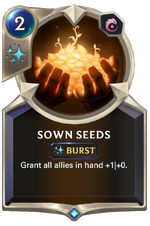 Burst is a keyword in

Legends of Runeterra.
Burst spells resolve instantly after being committed. The enemy can't act before it finishes.

They can be committed at any time during the user's turn. They do not add to the stack, create a stack, or end the caster's turn, they commit as soon as any requirements are declared, eg. targeting units, they cast as soon as they are committed without a chance to confirm nor react.

Skills can appear to be Burst, but they are responded to the same as fast spells.
List of cards with keyword Burst
List of cards granting Burst
Name
Type
Subtype
Region
Rarity
No cards found
List of cards generating Burst cards
Community content is available under
CC-BY-SA
unless otherwise noted.